U.S. Junk Bonds Rally Most in Two Decades With Fed Now a Buyer
(Bloomberg) -- U.S. junk bonds rallied the most since 1998 after the Federal Reserve's historic move to begin buying some of the speculative-grade corporate debt.
The extra yield investors demand to own the securities instead of Treasuries narrowed 86 basis points Thursday to 785 basis points, the lowest level since March 13, according to the Bloomberg Barclays U.S. Corporate High-Yield index.
The Fed's announcement that it would buy a limited amount of recently downgraded junk debt gave the market its biggest boost since spreads surged to distressed levels last month amid a pandemic that has shut down large parts of the economy. Average yields on the debt fell by almost a percentage point to 8.48%, index data show.
Spreads had reached 1,100 basis points on March 23, the widest level since the global financial crisis.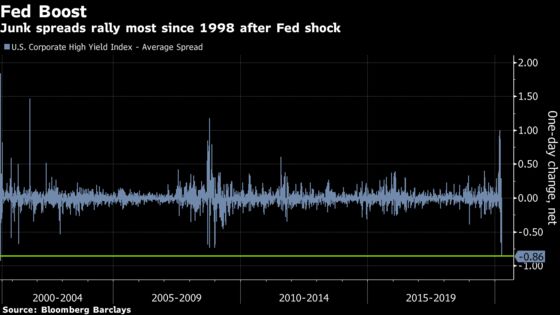 To keep credit flowing, the central bank is expanding a corporate bond-buying program to include debt that was investment-grade as of March 22 but later downgraded to a rating of no lower than BB-, the third-highest junk grade.
In doing so, the Fed is essentially opening up its balance sheet to potentially hundreds of billions of dollars worth of notes that are expected to fall into speculative grade in the coming months as the impact of the pandemic hits corporate cash flows.
The Fed can also buy exchange-traded funds that track speculative-grade debt. Those funds surged the most in a decade following the announcement. All together, the programs will support as much as $850 billion in credit.