U.S. Junk-Bond Funds See $2.3 Billion Inflow, Most Since April
(Bloomberg) -- Investors are rushing back into U.S. junk bonds with funds that buy the risky debt seeing the biggest inflows since April.
The funds received $2.3 billion of cash in the week ended Oct. 20, the biggest influx since the week ended April 7, according to Refinitiv Lipper data. It shows a shift in risk appetite following two straight weeks of outflows, including a $1.8 billion withdrawal last week, the most since June. 
A jump in yields has made junk bonds more appealing after rising about 30 basis points since the start of September, closing at 4.16% Wednesday. Bill Zox, a high-yield bond portfolio manager at Brandywine Global Investment Management, said a rally in equities was also helping drive demand, while a better chance of generating positive inflation-adjusted yields compared to the investment-grade market is another factor.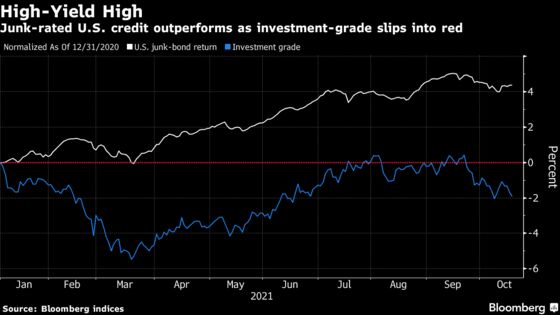 "The value of the equity cushion is so high compared to the level of debt," said Zox. "Rates have been increasing since September, leading to losses for investment-grade. That's also made junk bonds more attractive."
The Bloomberg U.S. Investment Grade Index in September suffered its worst monthly total return since March, posting a 1.05% loss as Treasury yields rose, and is down 0.64% so far this month. The Bloomberg U.S. High Yield Index, meanwhile, lost just 0.01% in September -- the first monthly negative return of the year -- and is down about 0.14% so far in October. 
Read more: UBS Sees Corporate Bonds Headed for Steepest Loss Since 2008
Still, investment-grade debt is still attracting buyers. Funds that buy the debt saw investors add $3.84 billion during the same period after an influx of $881.9 million in the prior week.