Nasdaq Index Futures Surge as U.S. Treasury Yields Halt Rally
(Bloomberg) -- Futures for the Nasdaq 100 Index surged, signaling a rebound in tech stocks on Wall Street following Monday's selloff, as the advance in Treasury yields came to a halt.
The March contracts were up 2.2% as of 9:42 a.m. in London, while futures on the S&P 500 Index rose 1.1% and those on the Dow Jones Industrial Average gained 0.6%. The Nasdaq 100 Index dropped 2.9% on Monday, while the Philadelphia Semiconductor Index tumbled 5.4%. Ten-year Treasury yields were down 5 basis points at 1.54%, pausing after a four-day increase.
Mounting expectations of an economic recovery and a rise in inflation have been driving up bond yields, making the highest-priced equities less attractive and sparking a rotation into cheaper stocks. The Nasdaq 100 has fallen 11% from its Feb. 12 peak, entering a technical correction.
Tech-Heavy Nasdaq 100 Falls Into Correction Amid Rout: Chart
"Rising bond yields are unwinding last year's boost to growth stocks, but they are only adding fuel to a fire that started with the first vaccine breakthroughs of last November," said Hugh Gimber, JPMorgan Asset Management global markets strategist.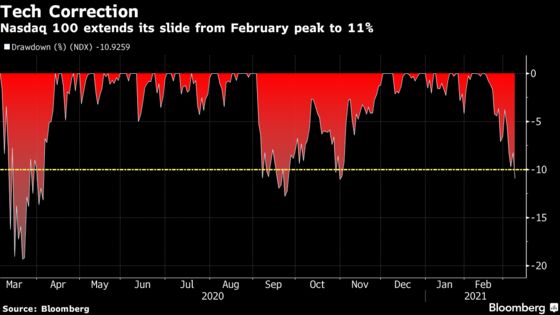 Shares in Tesla were up 5% in premarket trading, while Cathie Wood's flagship exchange-traded fund Ark Innovation ETF, which has Tesla as its largest holding, gained 4.8%. Both are set to open higher after five straight days of declines. Tesla has lost more than a third of its market value since peaking in January.
Nasdaq futures are up on the back of "some short covering ahead of the important central bank meetings and declining Treasury yields today," said Ulrich Urbahn, head of multi-asset strategy and research at Berenberg Bank. "The Nasdaq is quite sensitive to yield changes at the moment."
In Europe, the Stoxx 600 Index was up 0.4%. It surged 2.1% on Monday, led by value shares such as banks and autos amid a sharp sector rotation.