U.S. Futures Steady on Thanksgiving Week as Pence Attacks China
(Bloomberg) -- U.S. stock-index futures were steady in a trading week shortened by the Thanksgiving holiday that is set to include reports on sales of previously owned homes and durable goods. Asian stocks advanced and European equities rallied as technology and construction shares gained.
December contracts on the Nasdaq 100 were up 0.2 percent at 4:22 a.m. in New York, while contracts on the S&P 500 Index and Dow Jones were little changed. The Stoxx Europe 600 Index was up 0.4 percent, taking a breather after last week's losses fueled by Brexit turmoil.
Trade tensions persisted as Vice President Mike Pence sharpened attacks on China during a week of meetings that ended Sunday. The Asia-Pacific Economic Cooperation summit ended in disarray on Sunday as leaders failed to agree on a joint statement. The failure reflected heightened tensions between the U.S. and China, with Pence saying Washington would "not change course until China changes its ways."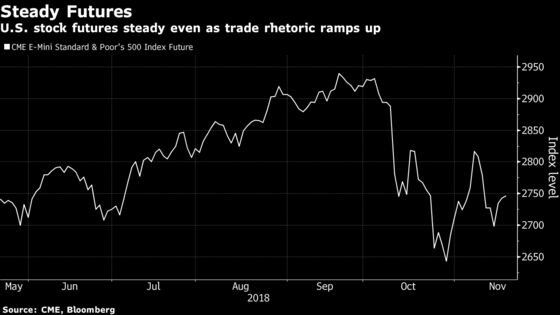 The spat is likely to get worse before it gets better, lingering into 2019, said Kerry Craig, a Melbourne-based global market strategist at JPMorgan Asset Management. Neither side is willing to tackle issues around intellectual property protection and the transfer of technology which makes it difficult to reach a resolution "anytime soon," he said.
"I don't place too much weight on a positive outcome on what would happen at the G-20" summit, Craig said by phone. "These meetings appear very positive when they happen, and then a week later they can change on a dime."