U.S. Financials Aren't Rising With Yields, in an Ominous Omen
(Bloomberg) -- In an ominous sign for U.S. equity bulls, financial shares are failing to capitalize on the steepening Treasury yield curve, and are even lagging behind the equally interest-rate sensitive utilities sector.
During the most recent move in Treasuries -- a 40 basis-point advance for 10-year yields from Aug. 24 through Tuesday, and a 13 basis-point widening in the spread over two-year rates -- financial stocks have fallen 0.4 percent. By contrast, utilities have gained 1.6 percent. The S&P 500 Index is up about 0.2 percent over the period.
The bad news: a lagging financial sector has consistently preceded a weak overall stock market, according to Jason Goepfert, president of Sundial Capital Research Inc.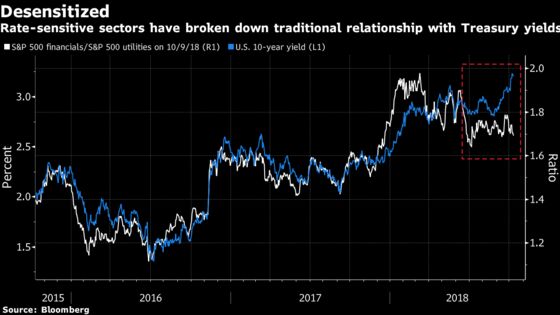 "There is an extremely high positive correlation between rates and the ratio of financials to utilities, but it has broken down in the past couple of months," Goepfert wrote in a recent note. When this has happened in the past, "it has consistently led to weak returns in the S&P 500, mostly one month later," he said.
When 10-year Treasury yields were in the top 10 percent of their six-month range and the financials-utilities ratio was in the bottom 10 percent, the S&P 500 posted a median decline of 1.6 percent over the next month, he said. The broader gauge managed to rally only about one-third of the time, he added.
While rising rates have traditionally been a boon to bank earnings, they come at a time when U.S. financials are dealing with disappointing loan growth, struggling mortgage businesses and concerns over their international businesses.