Global Bond Yields Drop as Central Banks Puncture Rate-Hike Bets
(Bloomberg) -- Global bond markets extended a rally that kicked off after the Bank of England's surprise decision to keep interest rates on hold led traders to trim expectations policy makers will raise borrowing costs to cool inflation.
Short-end securities were hit the hardest, with Australia's three-year yield tumbling toward its biggest weekly retreat in almost a decade. The U.S. five-year yield dropped to near a three-week low, as yields on similar-maturity U.K. gilts sank the most since the Brexit vote. Germany's two-year yields fell to the lowest in two months. 
Traders are rethinking the likelihood that central banks will buckle to market expectations for tighter monetary policy. The BOE's unexpected decision came just two weeks after Governor Andrew Bailey said we "have to act" on quickening inflation. It also followed statements from the Federal Reserve and the Reserve Bank of Australia this week that they would be patient about rate hikes. 
"Rates are a global market," said Subadra Rajappa, head of U.S. rates strategy at Societe Generale in New York. "Global central banks seem to pushing back on market expectations for aggressive policy action."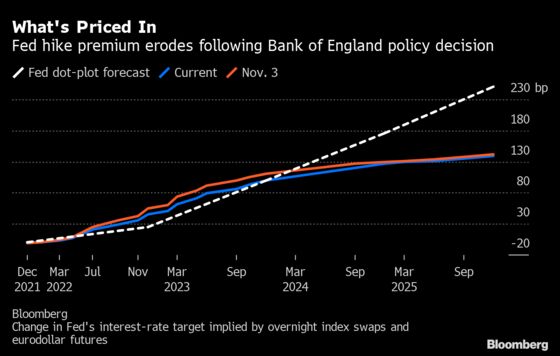 Australian three-year yields dropped seven basis points Friday to 0.90%. The yield is down 32 basis points this week, poised for its biggest such decline since 2012 and unwinding some of last week's steepest spike in 20 years.
U.S. two- and five-year Treasury yields were little changed in early Asian trading after sliding Thursday by four and eight basis points, respectively. In the U.K., yields for those tenors fell by 21 and 19 basis points after policy makers roiled markets by putting concerns about slowing growth above predictions for a spike in inflation. Germany's two-year note yield touched its lowest since Sept. 1.
The shift in sentiment pushed traders to pare bets on the pace of tightening by the Fed, which on Wednesday announced it would begin scaling back the pace of its asset-purchase program this month. Interest-rate futures, which had priced in two quarter-point increases in 2022, shifted the second into 2023.
The Fed's taper rate, if sustained, would end asset purchases by mid-year. While Chair Jerome Powell reiterated the taper decision doesn't carry a signal regarding interest-rate policy, futures markets continue to price in a roughly 70% chance the a hike in June, odds that were little changed into and out of this week's policy meeting. 
The move in short-term Treasuries extends a period of high volatility, especially in U.S. two-year yields, that began two weeks ago as rising oil prices stoked inflation expectations. Globally, spasmodic government bond markets took a toll on leveraged positions, forcing several hedge funds to curtail trading.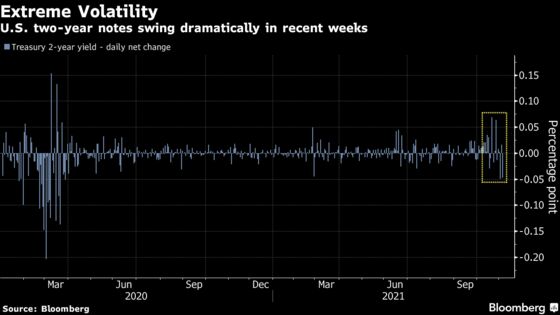 The next major U.S. data point in focus is the October jobs report on Friday, which is central to the Fed's dilemma. While the inflation rate "is not at all consistent with price stability," policy makers aren't ready to raise raise interest rates "because we want to see the labor market heal further," Powell said Wednesday.
The October report is forecast to show a 450,000 increase in nonfarm payrolls, which would be the largest since July.