U.S. Long-Bond Yields Drop to Record Low on Virus Concerns
(Bloomberg) -- The 30-year Treasury yield sank to an all-time low as a report showing U.S. business activity is contracting added to concern about the global economic fallout of the coronavirus epidemic.
Yields on the long bond fell as much as 8 basis points to about 1.88% on Friday as the outbreak accelerated outside China. The rate has fallen around half a percentage point in 2020 as investors with lengthy liabilities have snapped the debt up in a hunt for yield. And in a potential signal that recession fears are mounting, yield curves have reached the flattest levels this year.
Traders are also ramping up bets that the Federal Reserve will need to act, with futures at one point pricing in more than a half-point of easing in 2020. Fed officials, for their part, say the virus's impact on the U.S. economy should be short-lived and likely won't require lower rates.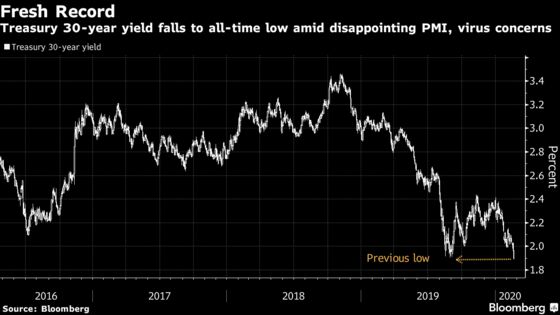 "The coronavirus appears to be the primary driver here in the short term in a world where demand for duration is already high," said Timothy High, a strategist at BNP Paribas. "There is considerable uncertainty as to how quickly the Chinese economy will ultimately recover from this tragedy and if the virus will spread around the world."
Treasuries rallied across the curve, with the 10-year touching 1.44%, the lowest since September. The 30-year rate broke the previous record low, set in August, after the report that U.S. business activity shrank in February for the first time since 2013.
The August rally in Treasuries was fueled by U.S.-China trade tensions and sliding yields in Europe. The 30-year yield subsequently rebounded to as high as 2.44% in November.
Yields resumed their slide in January, fueled mainly by the spread of the coronavirus. Bond gains gathered momentum following the Jan. 29 Fed decision, when Chairman Jerome Powell said policy makers were uncomfortable with inflation below the central bank's 2% target. The demand for Treasuries held up in the face of record highs in U.S. equity benchmarks. Stock indexes tumbled Friday.
"There's more buying across the curve and the back-end," said Subadra Rajappa, head of U.S. rates strategy at Societe Generale. "It seems like there's a flow we're not seeing, like someone is taking advantage of the steeper part of the curve and buying 30s."