U.K. Stocks Close Higher as Brexit Hope Tempers Virus Concern
(Bloomberg) -- U.K. stocks closed higher in a shortened session ahead of the Christmas holiday, as an imminent Brexit trade deal tempered worries about rising coronavirus cases.
The U.K. midcap FTSE 250 Index advanced 1.2% to a 10-month high, rising with the pound, while the exporter-heavy FTSE 100 Index closed up 0.1%. U.K. and European Union officials are still putting finishing touches to the Brexit accord after agreeing on outline terms Wednesday, with both sides haggling over fishing rights. The Stoxx Europe 600 Index rose 0.2% by 2:48 p.m. in Paris, with regional markets including Germany and Switzerland shut on Christmas eve.
The Stoxx 600 is down less than 5% for the year, trimming losses after a rally spurred by bets that coronavirus vaccines will bring about an economic rebound, although the emergence of a new strain of the virus in the U.K. has brought back some caution.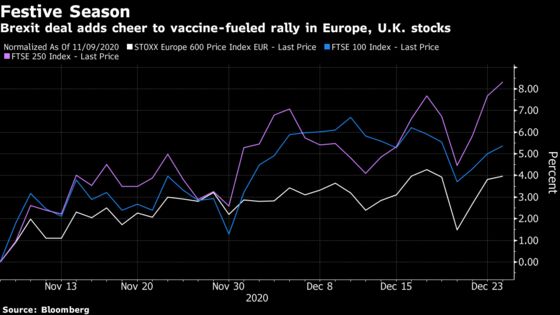 "The trade deal between the U.K. and EU, while not unexpected, should come as a relief to the markets," said Barclays Plc strategist Emmanuel Cau. "We expect GBP and domestic exposed stocks to see further bid as positioning on the space is still cautious and the worst-case macro scenario for the U.K. economy has been avoided. However, impact of new lockdowns and uncertainty about the new strains of the virus might cap the potential upside for domestic stocks in the near term."
Brexit-sensitive U.K. stocks extended Wednesday's gains, with banks and homebuilders advancing. The FTSE 250 has trimmed its annual decline to 6.1%, outperforming the FTSE 100's 14% drop. Strategists are optimistic about prospects for U.K. stocks in 2021 as the market emerges from the Brexit overhang that's been in place since the 2016 referendum.
"The FTSE 250 should start to see an outperformance relative to the FTSE 100 as U.K. domestic businesses will benefit the most from an agreement with the EU," said Alberto Tocchio, a portfolio manager at Kairos Partners. "The deal is an extremely positive signal both for the U.K. and Europe."