Theresa May Drops Call for Easy Access by Banks to EU's Markets
U.K. Prime Minister Theresa May proposed a looser partnership with the European Union in financial services, dropping demands for U.K.-based banks to retain easy access to the bloc.
May is now accepting that a version of the third-party agreements the EU has with countries outside the trading bloc is the best deal possible, according to a long-awaited government White Paper on Brexit. As a result, U.K.-based banks would lose unfettered access to EU markets.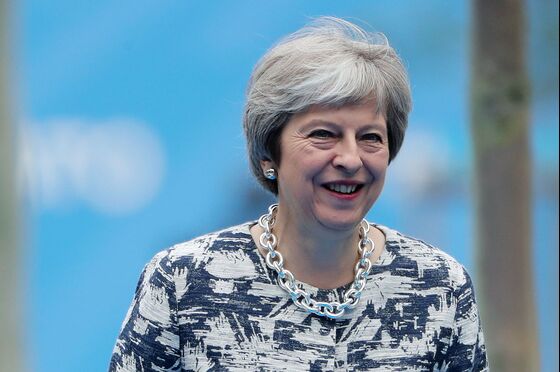 While the document suggested how a deeper version of so-called regulatory equivalence could be achieved with ongoing, treaty-based processes, it still received a scathing response from London's financial community.
"Today's Brexit White Paper is a real blow," Catherine McGuinness, the policy chairman for the City of London Corporation, which manages the British capital's financial district, said in a statement. "With looser trade ties to Europe, the financial and related professional services sector will be less able to create jobs, generate tax and support growth."
McGuinness said equivalence isn't good enough and would need to be substantially enhanced. A key sticking point in the current equivalence setup is a potential worst-case scenario for the U.K.: the EU's ability to unilaterally pull out of such an arrangement at short notice, undermining long-term planning for businesses.
There is no certainty that the EU will look favorably on any of the proposals, even if they are watered down from the previous stance. Until now, May has been holding out for an agreement based on "mutual recognition" of each other's financial regulations, which would involve little or no disruption to the status quo. But the EU has said all along that was unacceptable due to the U.K.'s unwillingness to stick to the rules of the single market, and existing equivalence arrangements were all that was on offer.
Britain wants to expand the range of banking services covered by equivalence and give Britain more input on the future shape of EU regulations. The U.K. proposed that some processes "would be bilaterally agreed and treaty-based," and "a structured consultative process of dialogue" between Britain and the EU would help maintain regulatory equivalence. The White Paper specifically criticized third-country equivalence regimes as lacking an official, bilateral "institutional dialogue."
"This new economic and regulatory arrangement would be based on the principle of autonomy for each party over decisions regarding access to its market," the U.K. said.
Under May's plan, both sides would agree not to pursue divergent regulatory policies in relation to financial services and consult on each others proposals at an early stage. She also called for clear timelines and notice periods appropriate to the scale of the change, should either party want to withdraw equivalence.
In April the EU's chief Brexit negotiator said U.K. banks should face similar restrictions to U.S. institutions -- which operate under equivalence arrangements. "Why would the equivalence system, which works well for the U.S. industry, not work for the City?" Michel Barnier said at the time.
With talks between the U.K. and EU stalled since March, global banks with European headquarters in London are rushing to establish new trading hubs elsewhere in the region, and have already started moving staff. EU regulators have made it clear they expect banks to establish full-scale, standalone operations inside the trading bloc as soon as possible.
The financial services industry contributed about 174 billion pounds ($230 billion) to the U.K. economy in 2016, or about 10 percent of the total, according to the lobby group TheCityUK. The sector employs about 2.3 million people, or 7.4 percent of the total working population.
May's approach was criticized by Davide Serra, a fund manager who says it still means London's financial sector could shrink as much as 20 percent over five years.
"What Theresa May has presented is de facto hard Brexit for services, which is 80 percent of the economy," Serra, who heads Algebris Investments, said in a Bloomberg Television interview before the government released the full White Paper.