U.K Online Retailer AO World Tumbles as Supply Disruptions Bite
Shares in AO World Plc plunged the most in more than six years after the online appliances retailer cut its outlook for the year ahead of Black Friday and the busy Christmas period.
The company slashed its full-year forecast for adjusted earnings before interest, taxes, depreciation, and amortization to 10 million pounds to 20 million pounds ($13 million to $27 million), citing disruption in the global supply chain and more competition in Germany. That's 65% lower than the midpoint of guidance given last month. 
The shares fell as much as 29%, the most since February 2015, cementing AO World's position as the worst-performing stock in the U.K.'s FTSE 250 Index this year. In 2020, they topped the midcap gauge after more than quadrupling in value as the pandemic spurred consumers to shop online and spend more on their homes.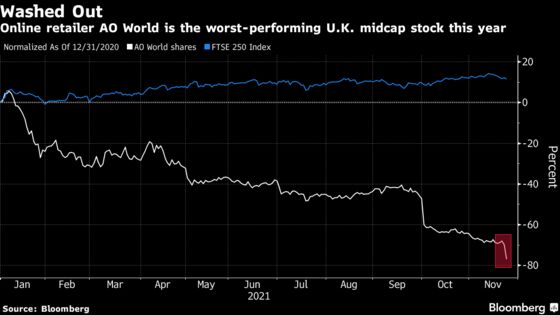 "We continue to see meaningful supply chain challenges with poor availability in certain categories, particularly in our newer products," the company, which sells domestic appliances and consumer electronics, said in a statement Tuesday. "The all-important current peak trading period is significantly softer than we anticipated only eight weeks ago."