U.K. Markets May Ignore Even a Hawkish-Sounding Bank of England
(Bloomberg) -- The U.K.'s longest bond rally since 2016 will stay in place no matter what the Bank of England says this week.
U.K. benchmark yields are heading for a third quarterly decline amid a slowing global economy and Brexit uncertainty. Even a hawkish statement from the policy makers on Thursday will do little to change that, according to portfolio managers from Aberdeen Standard Investments and Manulife Asset Management.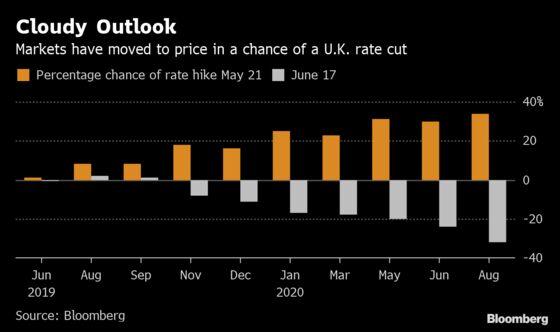 Investors from the U.K. to Europe to the U.S. are pricing a more dovish policy path than their respective central banks are indicating. Money markets suggest traders see the BOE as more likely to cut interest rates than raise them, even after Governor Mark Carney warned last month that investors were underestimating the prospects of higher borrowing costs.
"The market has moved past listening to anything the BOE have to say," said Luke Hickmore, a portfolio manager at Aberdeen Standard. "The reality of falling inflation and falling yields globally is more of the dynamic."
The yield on 10-year U.K. government bonds have fallen about 40 basis points this year and touched 0.81% earlier this month, the lowest level since October 2016. The rate on the two-year debt has declined 14 basis points and hit 0.52% earlier in June, a 17-month low.
In terms of U.K. monetary policy, Brexit is complicating the outlook. The central bank's policy path is based on a smooth withdrawal of the U.K. from the European Union, something that investors are less positive on. BOE officials will update markets on their latest thinking when they announce their policy decision at noon in London Thursday.
The lack of faith in the central bank's projections means gilt yields are unlikely to move dramatically on any comments Thursday, according to Hickmore. He said yields could be approaching their lower bound for now, unless there is a further collapse in German 10-year debt.
Grant Peterkin, a senior managing director at Manulife's Absolute Return Rates Fund, also sees the BOE's hands being tied by Brexit. It is "highly unlikely" that the central bank can hike while the current U.K. political turmoil continues, making short-dated gilts "a relatively safe asset to own in a world where there is a lot of uncertainty."