U.K. Flooded by Foreign Activist Investors as Brexit Heats Up
(Bloomberg) -- A weaker pound and rally in U.S. markets have prompted activist investors including billionaire Paul Singer's Elliott Management Corp. to increasingly target U.K. companies, outstripping the number of public campaigns by locally based funds.
Sixty percent of the Britain-based companies that have been publicly subjected to activist demands this year were targeted by investors that aren't headquartered in the U.K., according to researcher Activist Insight. That compares to an average of 38 percent annually for the previous five years.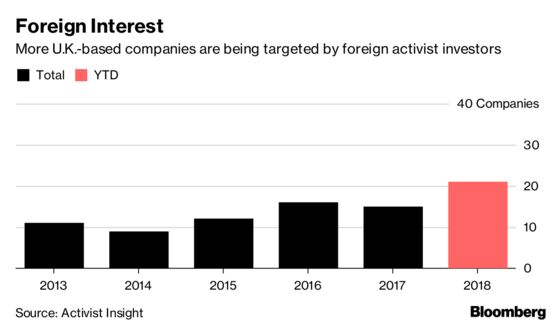 Elliott in April disclosed a stake in Whitbread Plc, which had been under pressure for years to consider splitting its Costa coffee shops from its Premier Inn hotels. Less than two weeks after the stake disclosure, Whitbread announced it would spin off Costa within 24 months. Coca-Cola Co. last month said it would buy Costa for 3.9 billion pounds ($5.1 billion).
And while uncertainty surrounding Brexit negotiations may have prompted global fund managers to avoid U.K. equities, this may not have been the case for activist hedge funds. Britain's currency has weakened about 2.8 percent versus the dollar in 2018.
"The numbers indicate that Brexit may have stimulated, rather than deterred inbound activist interest," Activist Insight said in emailed commentary Wednesday afternoon.