Brexit Drama Sinks the Biggest U.K. ETF
(Bloomberg) -- The largest U.S.-listed exchange-traded fund tracking U.K. stocks dropped Wednesday over new concerns surrounding the Prime Minister Theresa May's plans to exit the European Union.
The $1.74 billion iShares MSCI United Kingdom ETF, ticker EWU, sank as May's Brexit process threw the U.K. government into chaos and some members of the government challenged her leadership. Shares of EWU fell as much as 2.4 percent, the most in three weeks, but clawed back some of the decline after the prime minister's remarks defending her draft deal as "in the national interest."
"The kind of shambolic chaos unfolding before our eyes on the political front is really a sight to behold," Toby Nangle, co-head of asset allocation at Columbia Threadneedle Asset Management, said in an interview on Bloomberg TV. "And the real shame about it is that it's in reaction to what seems to be a plan for an orderly Brexit."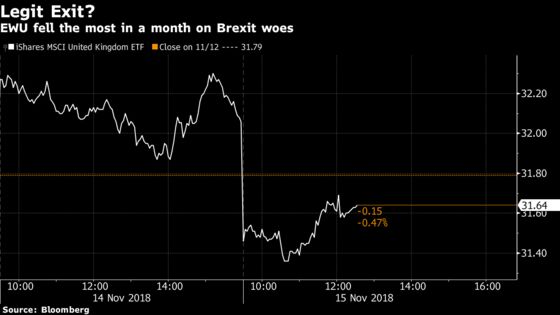 The decline is a result of the implementation of Brexit and how U.K. banks are being hurt in the process, said Andy Wester, senior investment analyst at Proficio Capital Partners.
"You have investors sort of scrambling to get a hold on any new potential regulations or hurdles for the U.K. banks," he said. "Regardless, the impact was clearly not priced into the equities."
May announced Wednesday that her cabinet approved a draft Brexit withdrawal agreement following a five-hour meeting. The prime minister published a Brexit blueprint, which many found unacceptable for offering too many concessions to the European Union. But despite opposition from hardliners and the submission of multiple letters calling for a vote of no-confidence, the prime minster said she'd see the process through.