U.K. Cycling Push Sends Retailer to Top of Lockdown Winners List
Since the U.K. introduced lockdown measures in March to combat the Covid-19 pandemic, bicycle seller Halfords Group Plc has been in the stock market's fast lane.
The shares have more than tripled in that period, and in doing so have been the best performers on the 616-member FTSE All-Share index. Gains were extended on Monday after Prime Minister Boris Johnson told Britons who are unable to work from home to return to their place of employment and encouraged the use of bicycles and walking over public transport.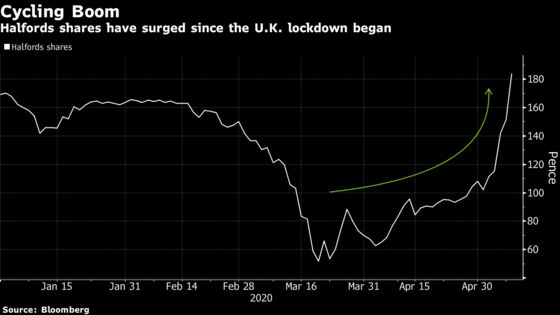 The government said over the weekend that it will spend 2 billion pounds ($2.5 billion) to promote more cycling and walking. It plans to issue vouchers for bike repairs and bring forward the trials of e-scooters to next month from next year.
"Halfords is the market leader in bicycle sales," Peel Hunt analyst Jonathan Pritchard wrote in a note. "With the stores looking better than ever in the bikes section, there's no reason to believe that it shouldn't take its share of what will clearly be a bumper couple of years for bike and accessories sales."
Peel Hunt raised its price target on Halfords to 250 pence from 150 pence, the highest among analysts tracked by Bloomberg. The shares surged as much as 26% in London.
Halfords isn't the only stock that's benefiting from the interest in cycling. Shares in Dutch company Accell Group NV, which sells its bikes and related products in more than 80 countries, surged as much as 21% on Monday.