Bond Giant Fretting ETF 'Blowout' by 2020 Buys Swaps Instead
(Bloomberg) -- The U.K.'s largest active manager is taking up arms against what it sees as an imminent liquidity crunch coming to credit markets.
As bouts of late-cycle volatility prompt fears of an impending race for the exits, Aberdeen Standard Investments has been scooping up securities with greater liquidity relative to cash bonds, like credit default swaps.
But while holdings of the derivatives have never been higher in Luke Hickmore's portfolios, the fixed-income manager is bucking a trend that's taken hold among many of his peers: He's shunning exchange-traded bond funds, fretting a "blowout" in the passive space within the next two years.
"If you've been in the market long enough to remember past blowouts, you know that liquidity is key," Hickmore said in an interview in Edinburgh, where the $736 billion asset manager has its headquarters. "High-yield credit and emerging-market ETFs won't be well placed to handle a liquidity crunch."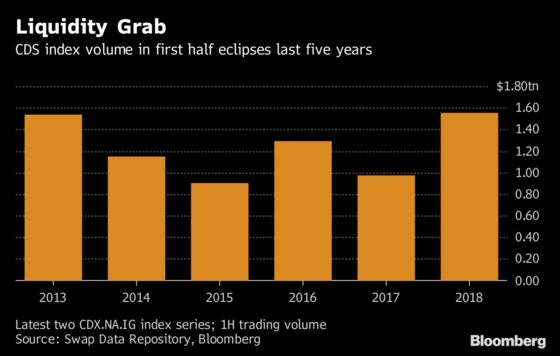 That's a somewhat contrarian view. Liquidity fears are a big reason fixed-income money managers have piled into bond ETFs, which like CDS are easier to buy and sell at short notice than cash bonds. But Hickmore reckons many funds in the space have become too inflated, and they may now struggle to cope with a rush of redemptions.
Record high trading volumes on U.S. swap indexes underscore how managers have become obsessed with finding instruments that will let them stay nimble in a downturn. Angst over vanishing liquidity was the chief concern among credit buyers in Europe, according to Bank of America's client survey in August.
"In the later part of the cycle, we're getting more and more into short-play stories and it's important to have the liquidity to exit quickly," Hickmore said.
Instead of buying sterling-denominated junk bonds earlier this year, Aberdeen bought swaps on Virgin Media, which were more liquid, according to Hickmore.
He also opted for CDS over cash bonds when Spain's Banco Bilbao Vizcaya Argentaria SA sold off amid concern over possible loan losses in Turkey, and traded swaps linked to metals giant Glencore Plc to get exposure to copper prices.
Before the latest batch of CDS contracts expired at the end of the first half, Hickmore's portfolios had about 10 percent invested in the securities, he said.
"Investors are finding it easier to transfer risk using synthetic index products," said Anindya Basu, a strategist at Citigroup Inc. in New York. "Getting in and out is cheaper than buying and selling cash bonds. So when markets sell off they can adjust their exposure to credit beta more easily than transacting in cash bonds."
Just 32 percent and 41 percent of daily trading in U.S. high-grade and high-yield credit takes place in the cash bond market, according to JPMorgan Chase & Co data. Credit derivatives trading volume jumped 65 percent year-on-year in the first half of 2018, according to the U.S. bank.
Like derivatives, bond ETFs have surged in popularity thanks to their ease of use and growing liquidity. But those tracking less-liquid corners of the fixed-income market -- such as emerging markets and high yield -- have come in for scrutiny, with critics warning against a mismatch between the securities and the assets they track.
"I'd expect a blowout in some of those closer to 2020," said Hickmore.