U.K. Active Asset Managers Get Pounded in Coronavirus Turmoil
U.K. asset managers who pick stocks the old-fashioned way are losing more ground to index funds as the coronavirus pandemic batters markets.
Investors in actively managed U.K. equity funds withdrew about 1.7 billion pounds ($2.1 billion) in March, the second-worst month on record, according to data from Calastone. So-called passive funds, by contrast, pulled in a record 1.4 billion pounds.
"Active managers tend to do rather well in difficult times for stock markets, so the big outflows from that segment at a time of such big inflows to passive funds are a little surprising," Edward Glyn, Calastone's head of global markets, said in a statement. "It seems investors attempting to catch market troughs may simply be focusing on timing and just relying on the index to do the rest."
Funds whose managers attempt to beat a benchmark have come under enormous pressure in recent years from cheaper index-tracking and exchange-traded rivals. In part, their struggles are down to poor performance. Over the past decade, a majority of active stock-pickers both survived and outperformed their average passive peer in just one of 66 categories analyzed by data provider Morningstar Inc.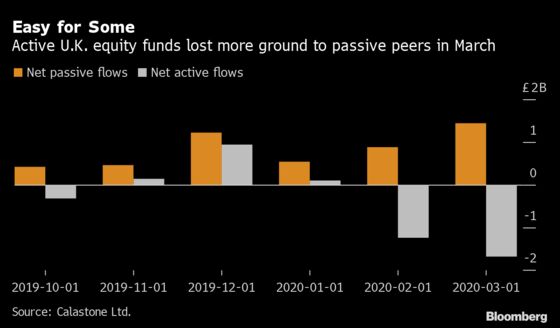 Overall, the market rout caused by the virus outbreak and lockdown measures imposed by the U.K. government led investors to yank a record 3.1 billion pounds from funds. That's about three times the previous worst month, June 2016, when U.K. voters backed leaving the European Union, according to Calastone.
With lockdowns for many economies around the world expected to go on for longer, data are showing the severity of the impact. Nearly 10 million people in the U.S. have lost their jobs in the past two weeks, while the virus continues to pressure corporate balance sheets. In Europe, the euro-area economy is in a slump of unprecedented scale, and the contraction may deepen even further as measures to contain the virus are extended.