Two Volatility ETNs Just Had Their Biggest Trading Day on Record
(Bloomberg) -- The latest bout of stock-market turmoil has sparked a surge in trading of two exchange-traded notes that bet on swings in the S&P 500 Index.
More than 70 million shares in both the VelocityShares Daily 2x VIX Short Term ETN and iPath Series B S&P 500 VIX Short-Term Futures ETN crossed the tape in New York trading on Tuesday, boosting volumes to an all-time high, data compiled by Bloomberg show.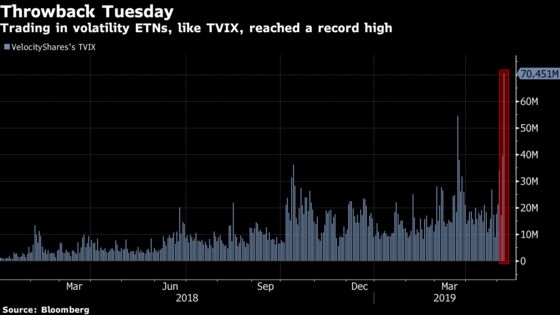 Despite echoes of February 2018, when a sharp jump in volatility destroyed a note that bet against fluctuations, ETP investors seem better positioned this time. They have less money at stake, and this year's cash has flowed to products that bet on bigger price swings. Other investors, like hedge funds, may be less immune: Bets against volatility by large speculators rose to a record in late April, U.S. Commodity Futures Trading Commission data show.
Another product -- the ProShares Ultra VIX Short-Term Futures fund -- also surpassed its 30-day average volume on Tuesday, booking its highest turnover since October, data compiled by Bloomberg show. All three products were among the 10 most-traded U.S. ETPs of the day.