Leveraged ETFs Pull In Billions for Two Niche Brands in March
(Bloomberg) -- In another sign of how wacky markets are, providers of niche exchange-traded products are luring more cash this month than many traditional powerhouses.
The two major issuers of leveraged products, which trade under the ProShares and Direxion brands, have each posted inflows of more than $2.8 billion so far in March, according to data compiled by Bloomberg Intelligence. Meanwhile, funds from Vanguard added $1 billion and those from BlackRock lost almost $12 billion.
Long the bad boys of the $4 trillion U.S. ETF industry, leveraged products use derivatives to boost returns of the securities they track, making bullish or bearish bets. While these strategies can mean big bucks, they may also amplify losses. With the surge in global market volatility and the collapse in confidence, the appetite for those funds among more-experienced traders has grown.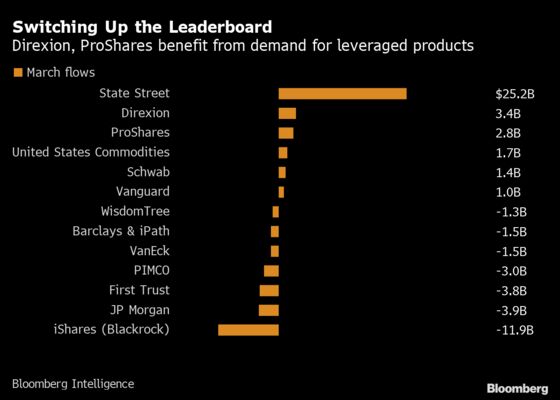 "Some investors seek to benefit from the recent market volatility on both the up and downside," said Todd Rosenbluth, director of ETF research at CFRA Research. "ProShares and Direxion have broad suites of products to support those trades."
Even with the surge in intake for those smaller issuers this month, it's worth mentioning that giant State Street claimed the top spot as flows poured into the $243 billion SPDR S&P 500 ETF Trust -- the world's largest ETF. The fund has attracted $15 billion so far in March amid stock gyrations and growing short interest.
Long leverage, or bullish, exchange-traded products have taken in $5.1 billion so far this month -- the most since at least 2013, according to data from Bloomberg Intelligence. Meanwhile, those that are short/inverse, or bearish, took in $163 million.
Despite the big fund flows this month, it hasn't been all smooth sailing for leveraged products. Several have been shuttered as a result of the global market swings, and some of them had to reduce leverage.