Two Firms Are Clashing About the Fate of U.S. Small-Cap Stocks
(Bloomberg) -- Cantor Fitzgerald LP and Susquehanna Financial Group LLLP agree that using options on the iShares Russell 2000 exchange-traded fund is a good idea. They just disagree on whether to be bullish or bearish.
Bearish contracts on the Russell 2000 ETF have become less expensive versus bullish ones as stocks have rallied on receding fears about the potential extent of fallout from coronavirus. The fund, known by its ticker IWM, has climbed 4% this week through Thursday, while the SPDR S&P 500 ETF Trust has gained 3.8%.
"It's time to re-hedge," Peter Cecchini, Cantor's global chief market strategist, wrote in a note Thursday. "Because volatility has also fallen so precipitously since the initial coronavirus sell-off, put-spread payouts are again one-standard deviation above their mean."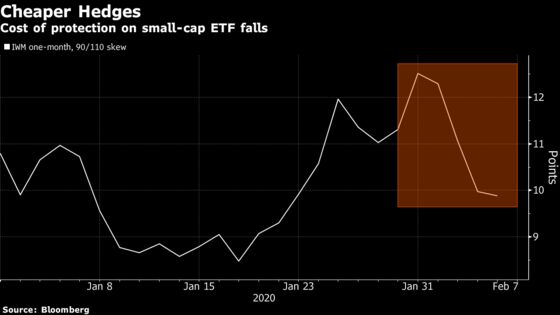 On the other hand, Susquehanna notes that the price of $160, IWM's resistance level through much of last year, has turned into support. The firm says it may even be heading higher.
"For those who believe IWM is poised to make new all-time highs and also believe $160 will serve as support, I would look at the March 31, $160/$172 bullish risk reversal," co-head of derivatives strategy Chris Murphy wrote in a note Thursday.
Read: Small-Cap ETF Lures $1.5 Billion in a Week on U.S. Growth Bets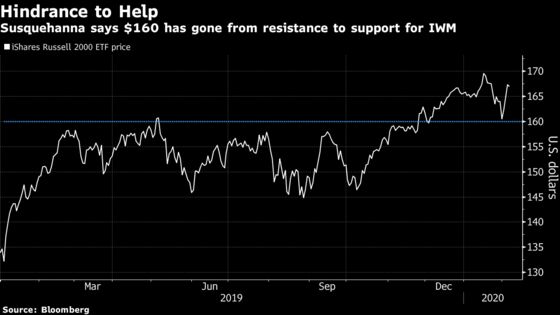 Small stocks, often seen as a domestic U.S. play as more of their revenue tends to come from America, haven't yet attained the heights of their larger peers: The Russell 2000 Index is still 3.6% below its August 2018 record high, while the S&P 500 Index and Nasdaq 100 Index have been reaching uncharted territory. Some strategists have been touting the sector as well, with Steven DeSanctis of Jefferies seeing the Russell 2000 outperforming the S&P 500 and RBC Capital Markets' Lori Calvasina noting that investor positioning isn't as stretched in the smaller stocks.
But Cantor's Cecchini isn't sold.
"Implied volatility and skew have reset on this rally to present opportunity to hedge," he wrote, recommending March put spreads on the IWM.