Turkish Stocks Extend Slide as Circuit Breakers Trigger Halt
(Bloomberg) -- Turkish stocks extended their losses following Friday's rout, prompting two automatic trading halts as local investors rushed out of the market after the lira's slide to a record low exacerbated economic concerns.
The Borsa Istanbul 100 Index tumbled as much as 8.2% on Monday. The first market-wide circuit-breaker went into effect following a 5% drop and the second followed almost immediately after trading resumed. Equities restarted trading for the second time at 4:54 p.m. in Istanbul and bounced from lows.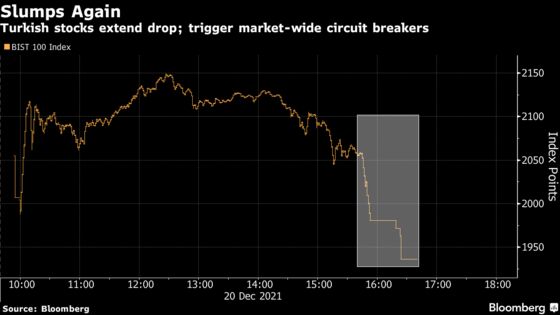 The lira's 58% decline this year in the wake of 500 basis points of central bank rate cuts has sent local investors flocking to stocks to shield their savings, making Istanbul among the best-performing markets of 2021 in local currency terms, but the worst when measured in U.S. dollars. However, the latest equity selloff signals that even domestic participants may now be leaving the market. 
"This inflationary spiral and currency crisis will strongly weigh on assets until we see a turnaround in macroeconomic policy," said Leonardo Pellandini, an emerging-markets strategist at Bank Julius Baer. "It's a very difficult and tricky time for locals."
The dramatic drop in stocks follows a central bank intervention in the currency market that failed to stem the lira's decline after a decision by the monetary authority last Thursday to cut benchmark repo rate despite soaring inflation. 
It's also the second session in a row that Turkish equities' trading is halted due to rapid losses. The benchmark plunged as much as 9.1% on Friday, triggering automatic circuit breakers during the second-steepest selloff of the year.
The lira tumbled to another record low on Monday after Turkish President Recep Tayyip Erdogan pledged to continue cutting interest rates, referring to Islamic proscriptions on usury as a basis for his policy.
"Erdogan's words from yesterday are not taken lightly," said Pellandini. "It's a further acknowledgement from the markets that we are pointing in the wrong direction." 
The Friday slump in equities was made worse by high levels of margin trading among local investors who have borrowed funds to join a recent rally in stocks. 
Calls on margins "led to snowballing losses" on Friday, turning a price correction into "panic selling," said Tuna Cetinkaya, assistant general manager at the Info Yatirim brokerage.