Turkish Lira, Stocks Rally as Central Bank Hikes as Forecast
(Bloomberg) -- The lira and Turkish stocks rallied after the central bank raised its key rate in line with forecasts, fueling speculation President Recep Tayyip Erdogan will make good on a pledge to return to market-friendly policies.
The lira appreciated as much as 2.5% per dollar following the decision to hike by 475 basis points, helping the currency buck declines among emerging-market currencies on Thursday. The benchmark stock index reversed ealier losses.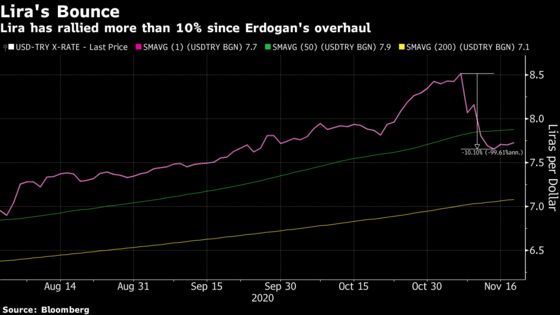 The Monetary Policy Committee led by Governor Naci Agbal increased the one-week repo rate to 15% from 10.25%, as predicted by most analysts polled by Bloomberg. The monetary authority will now only use that rate to fund commercial banks, a step toward making policy more predictable.
While the move is "lira positive" it's also "too soon to say whether this will be enough to stabilize the lira beyond the immediate future -- that will depend on inflation developments," said Henrik Gullberg, a macro strategist at Coex Partners in London. "It's a necessary attempt to move toward a more orthodox monetary policy, something we have seen several times over the past 10-11 years, and which typically is followed by a prolonged period of lira stabilization."
The Borsa Istanbul 100 Index climbed 1.9% as of 3:29 p.m. in Istanbul, while the banking stocks gauge advanced 4.6%. The lira was trading 1.9% stronger.
Thursday's decision was the first test of Erdogan's promised pivot toward more orthodox policies after the shock overhaul of his economic team earlier this month. The appointments, which included the arrival of Agbal at the central bank, were accompanied by vows of "bitter" economic medicine.
That reassured investors who have long called for tighter policy, spurring a more than 10% rebound in the lira. Foreign investors purchased a net $908 million in Turkish equities and bonds in the week through Nov. 13, data from the central bank show.
The current average cost of lira lending is already 14.8%, so the central bank's hike translates into an effective increase of just 20 basis points, according to TD Securities' Cristian Maggio. At the same time, the decision to restore funding through a single rate helps restore confidence, he said.
Investors will demand consistency from the central bank in the months ahead, according to Maggio. "This may require policy makers to lift the repo by another 200-500 basis points to bring inflation under control as quickly as possible."
Hikes of that size could trigger political resistance, he said.
Just a day before the central bank's move, President Erdogan briefly sent the lira tumbling when he once again touted his credentials as an oppontent of higher rates.