Turkish Lira Slumps as U.S. Threatens 'Significant' Sanctions
(Bloomberg) -- The Turkish lira led global currency losses and stocks slumped after the U.S. threatened to impose "large sanctions" if the nation doesn't release American pastor Andrew Brunson.
The currency fell as much as 2.3 percent and the largest exchange-traded fund tracking Turkish equities sank after President Donald Trump tweeted that Turkey should free the "innocent man" immediately. The lira had gotten some relief yesterday when Turkey -- a NATO ally of the U.S. -- decided to place Brunson under house arrest after almost two years in jail.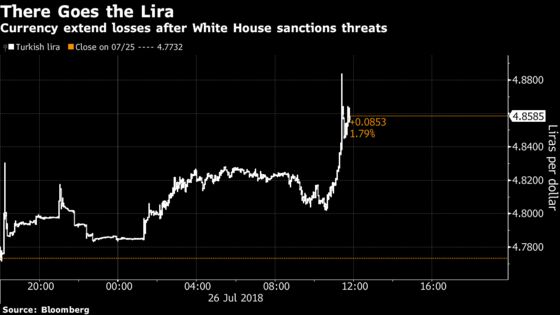 Trump's tweet followed an earlier threat by U.S. Vice President Mike Pence of "significant sanctions" on Turkey. The standoff is an unwelcome complication for the nation at a time when it's grappling with financial stress that includes accelerating inflation, a widening current-account deficit and investor perceptions that the central bank isn't doing enough to shore up the lira. The lira is this year's worst performer versus the dollar after the Argentine peso, weakening almost 22 percent.
Turkey responded via a tweet from Foreign Minister Mevlut Cavusoglu. "We will never tolerate threats from anybody," he said.
The currency slid 1.9 percent to 4.8648 per dollar as of 5 p.m. in New York. The Borsa Istanbul 100 Index erased earlier gains, while Turkish state-run lender Turkiye Halk Bankasi AS sank 3.2 percent following yesterday's 12 percent surge. The iShares MSCI Turkey ETF fell as much as 4 percent before paring losses.