Turkish Bank Stocks Start 2019 With a Fighting Comeback Rally
(Bloomberg) -- Turkey's battered bank stocks are staging one of 2019's early comeback stories, confounding the sector's bears and forcing a retreat among short-sellers.
An explosive five-day rally in the Borsa Istanbul Banks Index is showing no sign of easing, with the gauge surging as much as 4.9 percent on Thursday, led by Akbank TAS and Turkiye Garanti Bankasi AS, the nation's largest lenders.
"Valuations are as low as I can recall in terms of price-to-book value and most important of all, the lira has comported itself well," said Julian Rimmer, a London-based trader at Investec Bank Plc. While many of the problems plaguing Turkey will resurface, "there is a short-term window of opportunity in which the banks can perform."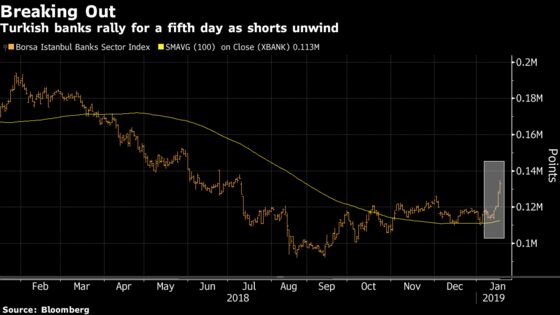 The surge that's added almost 20 percent to the gauge accelerated on Wednesday after the central bank left rates on hold, triggering gains in the lira. It's a remarkable turn of events for a sector that lost more than 50 percent of its market value last year in dollar terms and had been struggling to recover.
Some short sellers have headed for the exits. Short interest in Akbank has dropped to 4.7 percent of shares outstanding from a high of 9.9 percent in December, according to data compiled by IHS Markit. At Garanti, it has fallen to 4.4 percent from 6.4 percent.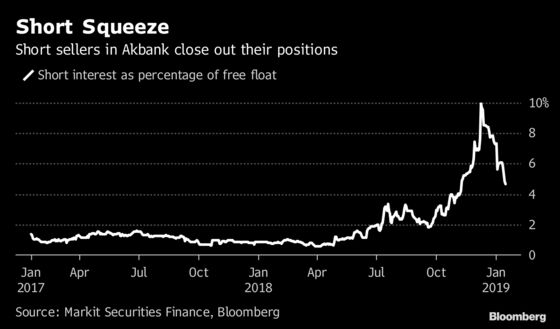 With Turkish banks still trading at around half of their forward-looking book value -- close to a historic low -- a bet on lenders may seem worthwhile, especially if emerging markets find their feet this year. And it doesn't take much to drive shares higher, given how lightly investors are positioned after last year's rout.
Even so, the speed of the advance is eye-catching, considering all the baggage.
Turkish banks remain saddled with a pile of bad loans and a slowing economy, which means loan growth is petering out. Technical indicators are also flashing red, with the 14-day relative strength index trading above 70, a level that signals share prices may have risen too far too quickly.