Turkey Stocks Trade Near Record in Sign of Renewed Risk Appetite
(Bloomberg) -- Turkish stocks continued their rally Monday as a deep discount to emerging-market peers and an improved outlook from the country's banks enhanced their appeal to investors with a renewed appetite for riskier assets.
The Borsa Istanbul 100 Index rose as much as 1.9% to 120,899.69 on Monday, surpassing the benchmark's record closing high and adding to their advance after emerging as the surprise winners last week amid the fallout from the Iran-U.S. crisis. Shares in Turkish banks and steelmaker Erdemir led the benchmark index higher.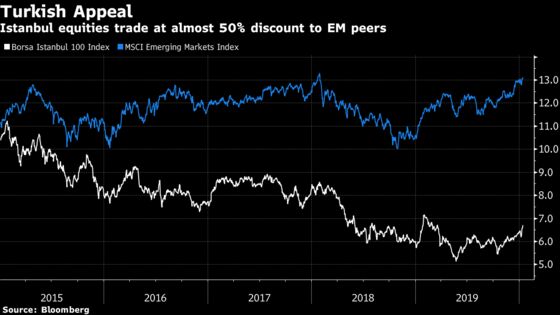 Istanbul stocks are trading at a discount of almost 50% to their emerging-market peers. The imminent signing of a partial U.S-China trade deal is stoking optimism, adding to upbeat sentiment from the ebbing of Middle East tensions. Gains in the local currency and positive news on the economy encouraged the flow of cash to Turkish assets, said Ipek Ozkardeskaya, a senior market analyst at Swissquote Bank.
"The stronger Turkish lira and current account data released this morning gave a solid basis for the stock rally, even though the data fell slightly short of the market expectations," said Ozkardeskaya. "Cheap valuations also give an additional boost to the upside move, making long positions more appetizing for investors as they become convinced that it may be the right time and the right price to enter the market."
Overall, the environment for emerging market equities is quite positive, JPMorgan Chase & Co. strategists including Mislav Matejka wrote in a note on Monday. "Episodes of geopolitical uncertainty were historically buying opportunities, rather than the reasons to start selling," they wrote, adding that emerging market stocks are trading at relative valuation levels that are near multiyear lows.
Turkish stocks have climbed 44% from the last low touched in May, as 1,200 basis points of central bank rate cuts that spurred the economy and dulled the allure of deposit accounts combined with a relatively stable lira and a revival in risk-on sentiment fueled gains. The main index set its record high in January 2018 after a 48% jump during 2017 supported by a flow of loans to companies from the national Credit Guarantee Fund.
The Borsa Istanbul 30 Index, a gauge of local blue-chip stocks, surged 8.4% in dollar terms last week, while the benchmark index jumped 8.3%, making them the top performers worldwide as upbeat guidance from some of Turkey's largest banks for 2020 and the relative easing in oil prices highlighted the appeal of stocks in the net importer of crude.
"The downside correction in energy prices and stronger lira should continue giving support to Turkish stocks in the coming days, especially if production data confirms improved activity in November and the central bank goes ahead with another rate cut on Thursday," Kardeskaya said.
The main Turkish index traded 1.5% higher at 120,393 points as of 1:58 p.m. in Istanbul.