Tullow CEO Rises From Founder's Shadow as Risk-Taking Ebbs
(Bloomberg) -- The fortunes of Paul McDade and Tullow Oil Plc have mirrored each other for almost three decades.
Drawn to the industry in the 1980s as a way to see life outside his native Scotland, McDade moved through the Middle East, South America and Southeast Asia. At the turn of the century, just as a promising career was shaping up at Canadian oil company Talisman, a different opportunity emerged.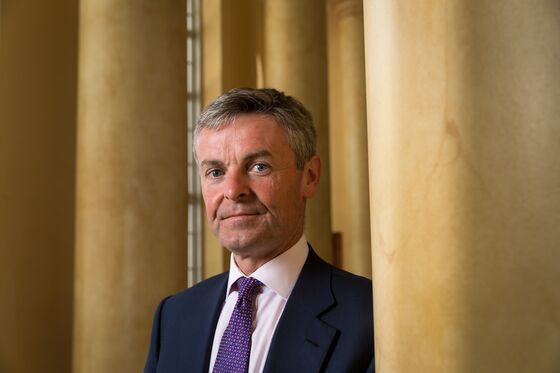 "I've met this Irish guy who's trying to convince me to come to London and start with the company," McDade said at the time to his wife. It was a risky leap from a well-established producer to a near-startup with uncertain prospects and few staff.
"How many people?" McDade's wife asked. "Well, there's no one there yet," he replied.
The Irishman was Aidan Heavey, who named Tullow after a town in his home country. He'd started with the development of a small gas project in Senegal in 1986, before acquiring North Sea assets over the next couple of years. Over the next decade the company remained a modest driller and when McDade jumped on board in 2001 Tullow was just about starting to spread across Africa.
One word defined Tullow, Heavey and McDade in those early days -- risk. And it certainly paid off. Over the next few years they unlocked reserves in Ghana and Uganda, becoming one of the continent's top explorers with a reputation for opening up new frontiers.
Yet, for McDade, having taken the helm at Tullow last year, the keywords have now changed to discipline and restraint. Acquisitions and large oil discoveries pushed the company's market capitalization from about 300 million pounds ($384 million) in 2003 to more than 14 billion pounds in 2012. Since then it's slumped to about 2.5 billion pounds.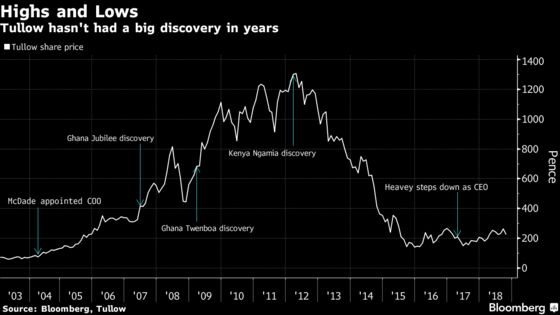 Oil's downturn that started in 2014 changed the company, forcing it to cut spending and reconsider its risk-taking ways. In an attempt to stem declining profits and a rapidly slumping share price, Tullow reorganized and Heavey departed. McDade took over.
One of his biggest challenges will be to emerge not just from Heavey's dominating shadow on the company, but to convince investors and analysts he's the right man for the job.
He will have to draw on his vast experience of working around the world. McDade was in Kuwait when Saddam Hussein invaded the country in 1990. "That wasn't good timing," he said.
The experience and subsequent evacuation from the war-torn nation didn't faze him. He moved to Colombia, which was going through its own decades-long internal conflict.
Among McDade's first jobs at Tullow was to manage the money-making North Sea assets, which funded Heavey's risky exploration elsewhere. He was promoted to chief operating officer in 2004, and tasked with bringing together the company's assets worldwide, including Energy Africa, which Tullow bought that year.
In the years that followed, McDade ran the day-to-day operations and Heavey doubled down on exploration. Tullow had a string of successes in Uganda in 2006, a nation with no previous proven oil or gas reserves. The following year it made its biggest ever discovery -- the Jubilee field in Ghana. It then found the Tweneboa-Enyenra-Ntomme field in the country in 2009 and discovered oil in Kenya in 2012.
"I don't think even Aidan thought we would get to the dizzy heights of sitting there at the first oil ceremony in Ghana," McDade said.
The company's profit jumped more than nine times to a record of about $650 million in 2011 compared with the previous year as oil prices stayed high. Jubilee had started output by then, pushing companywide production to about 78,000 barrels of oil equivalent a day.
The slide began soon after.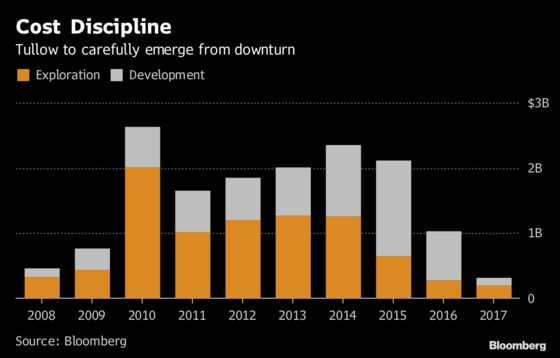 Crude's biggest slump in a generation in 2014 caught most companies around the world by surprise. Tullow reported losses in each of the four years from 2014 to 2017 and total debt surged from about $550 million in 2007 to $4.4 billion last year, according to data compiled by Bloomberg.
Trouble piled up, including an operational glitch at the prized Ghana assets. The company is among the worst performers in the 22-member Stoxx Europe 600 Oil & Gas Index this year with a 14 percent decline as its future production growth is uncertain, according to Jefferies LLC analyst Mark Wilson.
"Tullow's calling card is exploration" but it hasn't been able to repeat the success of the Jubilee field, Wilson wrote in a report last month. Unsuccessful drilling campaigns stretched the balance sheet, while uncertainty remains on the progress of its discoveries in Uganda and Kenya, he said.
While Kosmos Energy Ltd. and Cairn Energy Plc have similar operating models with producing assets balancing the risky hunt for new discoveries, Tullow is still seen to be straddling priorities.
"It's not quite managed to make the transition from small, nimble explorer to full-cycle independent," said Ashley Kelty, an analyst with Cantor Fitzgerald in London. "I think Tullow has lost its way a bit in recent years."
McDade is "not a refresh at all," he said.
McDade says that around 2008 some shareholders wanted the company to sell all its discoveries and put the money in pure exploration. "Where would Tullow be if we would've done that? We probably wouldn't be having this conversation," he said.
A priority since the oil price slump has been to fix the balance sheet, McDade said. That meant resolving production issues in Ghana, selling down in Uganda to cut capital exposure and prioritizing development in Kenya.
The company recently pulled out of the Cooper Block in Namibia. "Before the downturn we were spending a lot of money on exploration, but our, let's say, performance wasn't as strong as it had been and the market had been telling us that literally," McDade said. "We became much more performance driven and disciplined."
Despite the reticence on exploration, the company continues to look forward to a field in Guyana, in which it holds a 60 percent stake. McDade said this month the project is creating as much excitement as Ghana's Jubilee did more than a decade ago.
The approach is getting some praise. Tullow is managing expectations better and has "much more conservative figures," said GMP FirstEnergy analyst Stephane Foucaud. "Exploration is now really about the upside rather than the critical component of the story."
Having won over at least some analysts, McDade's approach could help him move Tullow on from Heavey's legacy by tempering risks and meeting targets "which, I suppose, is a lot more of a focus for me than Aidan," he said. "We will do frontier exploration, but we'll do it in a manner where we take a certain amount of funds and we stretch them."