Trump's Huawei Threat Triggers Semiconductor Stock Sell-Off
(Bloomberg) -- Semiconductor stocks ended a two-day rebound on Thursday as the Trump administration's move to curb Huawei Technologies Co.'s access to the U.S. market triggered a sell-off in key suppliers including Qorvo Inc. and Skyworks Solutions Inc.
The Philadelphia Semiconductor Index was down 1% at 12:45 p.m. in New York after paring a drop of as much as 2.3%. The S&P 500 Index was up 1.3%.
The 30-member chip index gauge had gained more than 3% in the prior two sessions, bouncing back from the lowest level since late March. The rebound was squelched after the White House barred companies deemed a national security threat from selling to the U.S. and threatened to blacklist Huawei from buying essential components.
Cowen analyst Chris Krueger, in a research note, called the threat a "massive escalation" in the trade tensions between the two countries. It's "hard to see how China does not retaliate with non-tariff trade barriers to defend their national champion," he wrote.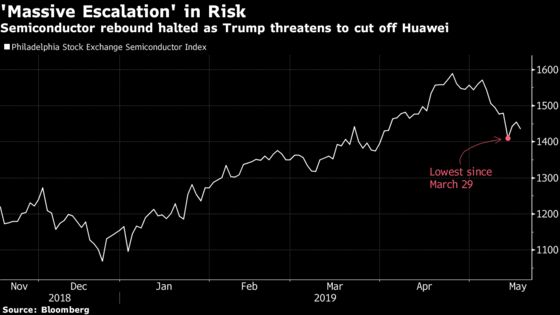 Qorvo and Skyworks Solutions, both of which derive about 10% of their revenue from Huawei, according to Morgan Stanley, each fell more than 4.7%. Inphi Corp., which the investment bank estimated had revenue exposure in the mid-teens, lost 13%.
Losses were widespread across the semiconductor industry and its various subsectors. Among memory-chip companies, Micron Technology Inc was down 2.7%. It got 13% of sales from Huawei in the last two quarters, according to Morgan Stanley. Western Digital Corp. fell as much as 2.5%.
From Bloomberg Intelligence: Impact to Chip Suppliers Could Be Substantial
NeoPhotonics and Lumentum Holdings saw heavy losses after B. Riley FBR listed them among the companies with the biggest Huawei exposure. Shares of NeoPhotonics sank as much as 15% while Lumentum dropped 8.1%.
"It goes without saying that any such action would be terrible for any Huawei supplier, and for the semiconductor industry at large," Chris Caso, a semiconductor analyst at Raymond James, wrote in a research note. Any restriction of component sales to Huawei would be much more significant than last year's temporary ZTE ban, and that "given Huawei's size, we don't think business lost by sales restrictions to Huawei could be made up elsewhere," he wrote.