Trump Predicts Data Will Show U.S. Economy in 'Terrific' Shape
(Bloomberg) -- President Donald Trump predicted data on Friday will show the U.S. economy is in "terrific" shape amid forecasts that growth topped 4 percent in the second quarter, the fastest since 2014.
Speaking at a steel mill in Granite City, Illinois, on Thursday, Trump doubted the expansion would reach the 5.3 percent some economists have penciled in, but said that "if it has a four in front of it, we're happy." He called recent economic figures "unthinkable."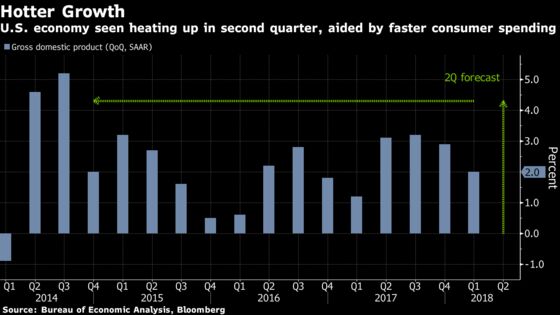 Gross domestic product expanded at a 4.2 percent annualized rate in the April-June period, according to the Bloomberg survey median, with forecasts ranging as high as 5 percent. The Commerce Department will release the statistics at 8:30 a.m. in Washington.
Among the forces behind the pickup from 2 percent growth in the first quarter is the biggest tax overhaul since the Reagan era boosting company and corporate spending. The traditionally volatile categories of inventories and trade also probably lifted the number -- helped by a likely temporary jump in soybean exports ahead of retaliatory tariffs
Analysts aren't convinced the acceleration will last, predicting solid yet less spectacular growth in the second half of the year as the tax stimulus begins to fade, the Federal Reserve raises borrowing costs again and the expansion ages. The simmering trade war with China will also weigh on the economy.
At Bloomberg Economics, economists Carl Riccadonna and Tim Mahedy estimate growth of 3.8 percent in the quarter. "This reflects a number of one-time idiosyncratic factors and should not be viewed as an indication of what is to come in the second half," they wrote in a report.
Trump said a number just short of 4 percent would also "OK."
The president's comments follow a June 1 tweet that caused a stir ahead of jobs data, when he said he was "looking forward to seeing the employment numbers at 8:30 this morning." Because the administration's economic team receives key economic figures under embargo the afternoon before the report, his optimism was a market-moving tell, and strong figures followed one hour after the tweet.
Under government policy, the chairman of the White House Council of Economic Advisers is given sensitive numbers such as jobs and GDP the day before the official report, and he or she can brief the president. After that, everyone privy to the data is barred from publicly commenting on it until an hour after the figures are released. Keeping the information under embargo is meant to prevent advantaged trading on some of the most market-moving reports in the world.
Trump said on Thursday he didn't know the details of the report on gross domestic product.