U.S. Retail Investors Are on Trump's Side in Fight With Fed
(Bloomberg) -- The majority of U.S. retail investors say the Federal Reserve should stop raising interest rates, according to a survey by Wells Fargo & Co.
Nearly half of all respondents say raising rates would be bad for the economy, according to the poll, which was conducted in mid-November in conjunction with Gallup. Sixty-one percent of investors do not support further rate hikes, up from 46 percent in May, the bank said in a statement Monday.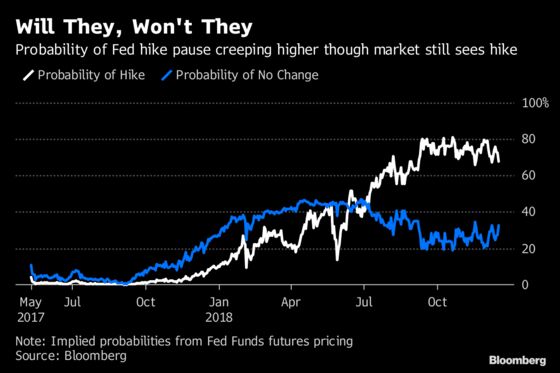 Those investors have a cheerleader in President Donald Trump, who slammed the Fed again in a tweet Monday for "even considering" another rate increase, laying out arguments against a hike to savor the achievement of a strong U.S. economy. Bond giant Jeffrey Gundlach and billionaire investor Stan Druckenmiller have been other prominent voices opposing a move, citing growth concerns.
Only 11 percent of retail investors described the U.S. economy as "booming," though 50 percent labeled it "solid," according to Wells Fargo. Thirty-nine percent saw it as "shaky" or "weak," it said. The bank surveyed over 1,000 U.S. adults with $10,000 or more invested in stocks, bonds or mutual funds.
Still, a slight majority of respondents, at 53 percent, said they have faith in the Fed to make the right decisions on rates, the survey said.
The Federal Open Market Committee begins a two-day meeting in Washington on Tuesday and trading in interest-rate futures indicate more than a 60 percent chance of the panel's fourth hike this year. Analysts said that Trump's latest attack make it extremely hard for Fed Chairman Jerome Powell to pause this week, even if he wanted to, out of concerns about independence for the central bank.