Trade Fears Threaten the Best Stocks in the U.S.
(Bloomberg Opinion) -- Investors shouldn't tut-tut the latest twist in Donald Trump's trade skirmish with China.
The S&P 500 Index slid as much as 1.61 percent on Monday after the president threatened in two weekend tweets to increase tariffs against Chinese goods. By the end of the day, the market had recouped much of its drop, with the S&P 500 ending down just 0.4 percent on news a Chinese trade delegation will still come to the U.S. this week for discussions; tensions remained, however, as the top U.S. trade negotiator accused Beijing of backpedaling on commitments made in talks and said the higher tariffs are set to take effect on Friday. 
For more than a year, the stock market has gyrated on trade news, starting with a $600 billion swoon in March 2018, when Trump announced his intention to impose tariffs on steel and other imported metals, and quickly hinted that all Chinese goods could be next. From the start, level-headed economists and strategists said the volatility was overdone, given that China only accounts for $130 billion in exports out of a $19 trillion economy. And even if U.S. exporters were forced to cut their prices by as much as 25 percent – the proposed tariff number on both sides – that would still amount to only about $32 billion.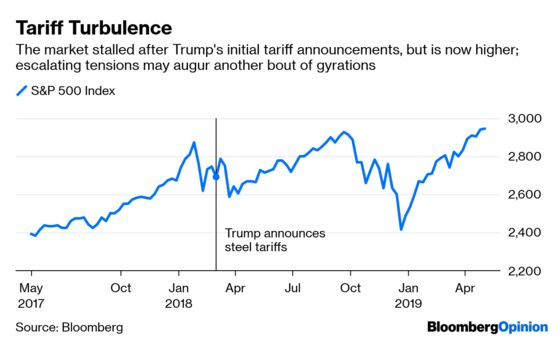 Monday's slight market drop barely put a dent in stocks; the S&P 500 Index is still up 17 percent this year, and is even higher than where it was back in February 2018, when trade fears first started heating up. But investors should probably be more wary of trade trouble. The reason has to do with the stocks that have fueled the market's recent rise, and what could happen if tensions were to boil over into a real economic problem.
While stocks as a whole have done well this year, technology shares in particular have helped drive the gains. The tech-heavy Nasdaq Composite Index is up 22 percent in 2019. What's more, during the past three years, the largest tech stocks in the S&P 500 have done considerably better than the index as a whole. Shares of Microsoft Inc. and Apple Inc. are up 155 percent and 125 percent, respectively, versus the S&P 500's return in the same time of 51 percent.
The result of that outperformance is that stocks in the tech sector now make up about 21 percent of the total market cap of the S&P 500, a near historic high. That doesn't even include Facebook Inc. and Amazon.com Inc., which are classified as consumer discretionary stocks, and would add another 6 percentage points if they were instead included in the tech sector.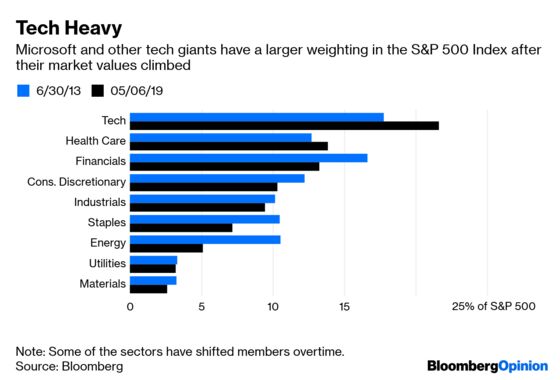 The problem is, U.S. tech stocks as a whole get 58 percent of their sales from outside the U.S., more than any other sector, according to strategists at DataTrek Research. That makes them particularly vulnerable to any tariffs that would slow their sales to non-U.S. customers. Of course, most large American companies will have a hard time hitting their growth forecasts without help from customers overseas. But the situation is more acute for tech companies that are projected to book sales growth of 3 percent and 6 percent this year and next, respectively, and earnings gains of 6 percent and 11 percent. That will be hard to do solely in the U.S., where growth of  2 percent to 3 percent seems to be where we are stuck.
Worse, technology stocks trade, on average, at nearly 20 times the next 12 months of earnings. That compares to 17 for the rest of the market, and a mere 12 for sectors like finance that have lagged. Tech stocks get a higher multiple from investors because of that growth, but also based on the assumption that in recessions the sector – because it is selling innovation – will generally do better than the rest of the economy. If there is a trade war-led recession, though, tech stocks could actually do a bit worse than the rest of the economy, or at least they would be hit harder than in a typical downturn.
If investors get that, it's not clear. The Nasdaq Composite index was down on Monday, but not much more than the rest of the market. Of course, given the outsize importance investors have assigned to the tech sector these days, if trade does tank tech, it's the whole market that will have a problem.
This column does not necessarily reflect the opinion of the editorial board or Bloomberg LP and its owners.
Stephen Gandel is a Bloomberg Opinion columnist covering banking and equity markets. He was previously a deputy digital editor for Fortune and an economics blogger at Time. He has also covered finance and the housing market.