Tropical Storm Fred Makes Landfall on Florida's Panhandle
(Bloomberg) -- Tropical Storm Fred crashed ashore on the Florida panhandle, becoming the fourth system of the 2021 hurricane season to strike the U.S.
Fred's top winds weakened to 60 miles (97 kilometers) per hour, down from 65 mph when it made landfall near Cape San Blas, near Panama City, Florida, the National Hurricane Center said in an update.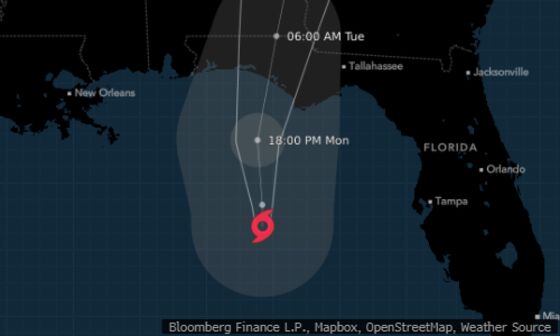 Fred comes ashore during a period when extreme weather has been battering the globe. July was the hottest month ever recorded on Earth. Wildfires have burned more than 1 million acres in California. And last week, Sicily appears to have broken continental Europe's heat record: 119.8 Fahrenheit (48.8 Celsius).
In the Caribbean, Tropical Depression Grace is lashing the Dominican Republic, Haiti, Cuba and Jamaica with rain. It comes after nearly 1,300 people were killed in Saturday's 7.2 magnitude earthquake in Haiti. The storm is expected to reach tropical strength over the next two days, eventually striking Mexico.
Upwards of 10 inches (25 centimeters) of rain, with some areas getting 15 inches, will hamper search-and-rescue operations, making the situation so much worse for Haiti, said Jim Rouiller, lead meteorologist for the Energy Weather Group. Damaged water and sewer systems will also be overwhelmed, which could lead to the spread of diseases. The storm was 50 miles southeast of Haiti's capital, Port-Au-Prince, late Monday.
While the current forecast calls for Grace to restrengthen and drive west across Haiti and the Caribbean and into Mexico, there is still a chance it could veer to the north and strike Texas, Rouiller said. That would put pressure on healthcare officials dealing with a massive outbreak of the Covid-19 delta variant across the state.
In addition to Grace and Fred, Tropical Storm Henri formed southeast of Bermuda with winds of 40 mph. All the activity is a reminder that this is the start of the most active phase of the Atlantic storm season, which switches into high gear around mid-August, Rouiller said. Ocean temperatures, which provide fuel for storms, are very warm. There is an increase in thunderstorms coming off Africa and dry air and wind shear, which can stop storms, has fallen off.
"I think this does mark the beginning of a prolonged period," Rouiller said. "Everything is in place."
Eight storms have spun up across the Atlantic in 2021 so far, a milestone that is usually reached by mid-September, the hurricane center said. While storms in the Gulf can disrupt offshore natural gas and oil production, Fred is forecast to stay mostly away from those areas, which are located off the coasts of Texas and Louisiana.
An average of 14 storms are named in the Atlantic each year and in 2020 a record 30 storms swept across the basin.