A Leveraged Oil Product Shutters In Wake of Historic Crash
(Bloomberg) -- WisdomTree is closing a leveraged exchange-traded product after this week's historic collapse in oil spurred wild moves in the instrument's price.
The WisdomTree WTI Crude Oil 3x Daily Short product has been suspended and will be delisted following "a severe overnight gap event," according to a statement from the issuer. WisdomTree said the product, which closed on Tuesday at around $17 a share, will be compulsorily redeemed at $8.19 per unit.
The payment is expected to be made on or around April 28, a WisdomTree spokesperson said in an email.
The $23.5 million Europe-listed instrument relied on swaps to deliver three times the daily inverse move in crude prices. On Monday, the front-month West Texas Intermediate futures contract made an unprecedented drop below zero amid a dearth of demand and storage capacity.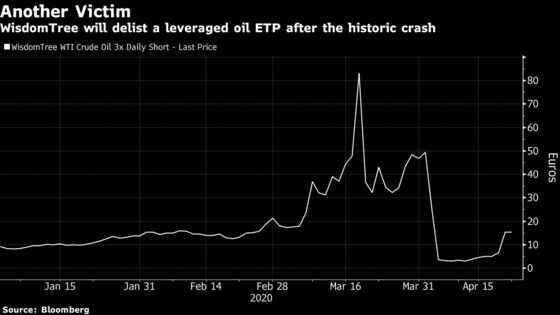 "The purpose of this provision is to allow the swap provider to terminate the swap before it reaches or breaches a floor of $0, where the product bears no value for investors," the spokesperson said.
The oil crash has been so severe that it's raised concerns among some strategists that even plain-vanilla funds that offer investors exposure to crude like the United States Oil Fund LP might be worth less than nothing.
Last month, WisdomTree closed a pair of geared products linked to WTI and Brent contracts after "an extreme adverse move in oil futures" roiled their prices.