Trend-Following Quant Funds Just Dumped U.S. Stocks
(Bloomberg) -- The trend is not your friend in today's languishing stock market -- and that's an understatement.
Trend-following quant funds are shedding over $50 billion in notional exposure to U.S. equities, according to Charlie McElligott, cross-asset strategist at Nomura Securities.
A sell signal for these trend-chasers -- commodity trading advisers or CTAs -- was triggered at 2,763 on the S&P 500 Tuesday, he said. That's the level at which equity futures breached their 200-day moving average and contract volumes spiked.
"Our CTA trend model is again deleveraging massive notional in 'long U.S. equities' expressions" across the S&P 500, Russell 2000 and Nasdaq 100, he wrote. "This is more about performance and year-end timing than the curve inversion/'growth scare' story," he added. "But that certainly is not helping the sentiment here either, as stops are being triggered across fundamental and rules-based strats."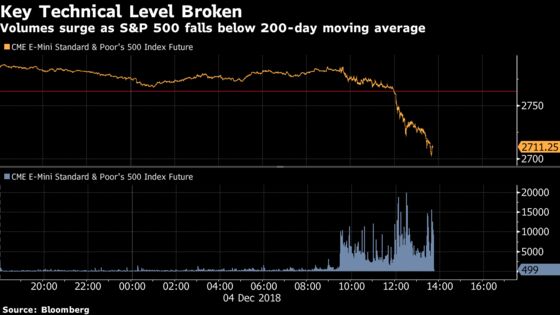 Trend-followers trimmed their max long position on the S&P 500, and reduced longs on the tech-heavy Nasdaq and the domestically focused Russell 2000, McElligott reckons. The next key level for these quants, 2,711 for the S&P 500, would elicit more selling, he said.