Trend Followers Stung in Hedge Fund 'Bloodbath' as Rout Deepens
(Bloomberg) -- Hedge funds using computer-driven models to follow big market trends have been whiplashed as volatility has spiked, among the biggest casualties of a stock rout that has accelerated worldwide.
Funds known as commodity trading advisers, or CTAs, have traditionally shielded investors during market selloffs such as the global financial crisis, especially when mathematical models show a clear or pronounced trend. But this time, they've been unable to navigate sharp reversals in asset prices, with Leda Braga's BlueTrend hedge fund, GAM Holding AG's Cantab unit and Man Group Plc's AHL unit among those suffering steep losses in October.
"It's a bloodbath out there across almost every strategy with very few exceptions," said Vaqar Zuberi, head of hedge funds at Mirabaud Asset Management, which oversees 8.8 billion Swiss francs ($8.8 billion). "CTAs have been caught by a double-whammy with rising rates and equities plummeting," said Zuberi. "There's only one exit and everyone is trying to exit now because the models are telling them to do so."
Computer-driven hedge funds were already headed for their worst year ever before this month's volatility, amid slowing corporate earnings, political turmoil in Italy and uncertainty over Brexit. Such funds tumbled more than 4 percent in February for their worst month since 2001, according to a Eurekahedge index that tracks the category.
The strategy has lost 1.6 percent in the first nine months of the year. Eurekahedge hasn't published numbers for October, but early returns from individual managers indicate that industry returns won't be pretty.
Braga's BlueTrend hedge fund is down 4.7 percent this month through Oct. 19, bringing its year-to-date loss to 12.8 percent.
Cantab Capital Partners Quantitative Fund-Aristarchus fell 9.1 percent through Oct. 19 this month and has plummeted 27.7 percent this year.
AHL Diversified fund was down 3.8 percent through Oct. 19 this month, worsening losses for this year to 10.3 percent. AHL Alpha was down 2.3 percent through Oct. 19 and lost 4.5 percent year-to-date.
Aspect Diversified fell 9.9 percent this month through Oct. 23 and is down 12.7 percent so far this year.
The returns were confirmed by people familiar with the matter. The firms declined to comment.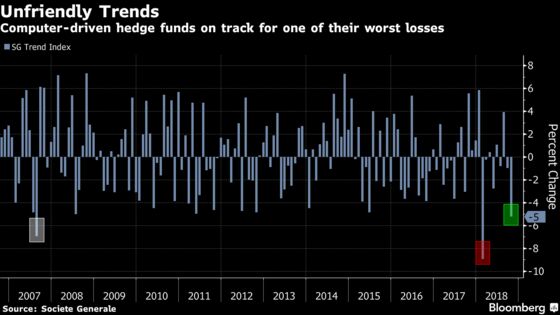 CTAs use computer-driven models to navigate markets and trade everything from equities to bonds to currencies to commodity futures.
Poor performance has led investors to yank nearly $11 billion from managed futures funds so far this year through September, the most out of any strategy, according to eVestment data.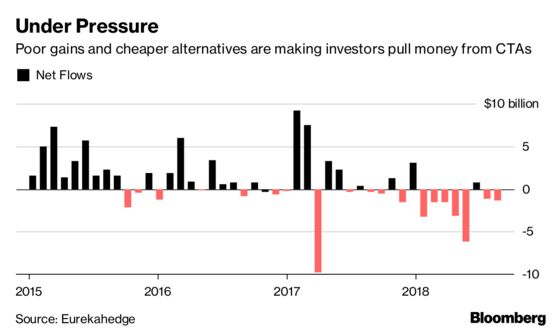 Trend followers aren't the only hedge funds suffering this month. Long-short equity funds, which wager on or against stocks, have been caught off-guard after a multiyear bull run for equities have made them increasingly reliant on long-biased bets. Equity long-short hedge funds suffered one of their worst ever losses on Wednesday, pushing declines this month to 8.7 percent, according to a report from Goldman Sachs Group Inc. The Horseman European Select Fund has tumbled 21 percent this month through Oct. 24.
Read more: Horseman Europe Hedge Fund Tumbles 21% in Stock Market Rout
The other area that has not helped is the recent selloff in energy markets, Zuberi said. "Earlier this week Saudi Arabia came out and promised two million barrels of extra capacity," Zuberi said, noting that CTAs were positioned for higher prices and long oil. "That was really the cherry on the top."