Treasury Yields Seen Capped at 3.5% as Stocks Drop, Newton Says
(Bloomberg) -- Treasury yields are unlikely to rise much further as higher Federal Reserve interest rates weigh on the U.S. economy and push down stock prices, according to Newton Investment Management.
Benchmark 10-year yields may still climb for a while but will probably fail to breach 3.50 percent, said Paul Brain, head of fixed income at the London-based money manager, which oversees the equivalent of $67 billion. U.S. sovereigns will be supported as a topping out of major stock markets by the middle of next year sends investors fleeing back to haven assets, he said.
"I would say it's possible you get higher yields, especially if inflation expectations start to rise, but it's unlikely because the vulnerability of the equity market will suppress them," Brain said in an interview last Thursday in Sydney. "By the middle of next year, higher borrowing costs will lead to lower investments and equity prices need to come down."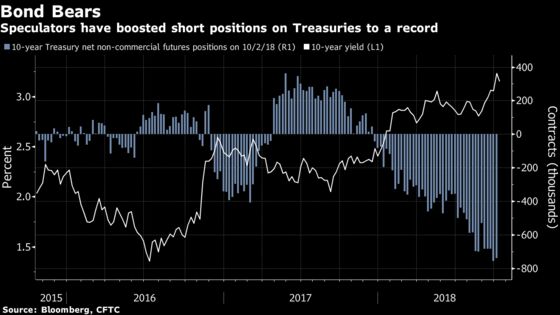 Global financial markets are approaching a crossroad with higher Fed interest rates and a U.S.-China trade war sapping demand for higher-risk assets. American shares tumbled last week, with some investors attributing the decline to those concerns, after a series of record highs this year.
Benchmark 10-year Treasury yields were at 3.15 percent as of 10 a.m. in London, having climbed to a seven-year high of 3.26 percent last week.
Treasury yields would have risen even more over the past few years due to the increasingly hawkish Fed, but the move was restrained by concern a removal of central bank liquidity would push down risk assets, Brain said.
Newton would consider boosting its Treasury holdings if 10-year yields reach 3.40 percent or 3.50 percent, as long as equities start to decline, he said. The asset manager would initially purchase Treasury Inflation Protected Securities given its prediction that U.S. inflation will accelerate.
"The reason why you buy Treasuries is not for the yield itself," Brain said. "It's because of the stuff elsewhere that you are worried about, and it's the equity sell-off that would prompt you to buy Treasuries."