Treasury Yield Surge Sends Emerging-Market Currencies Tumbling
(Bloomberg) -- The first fallout from rising U.S. Treasury yields has emerged, with a stronger dollar buffeting emerging-market currencies such as South Africa's rand and the Brazilian real.
The rand and real have slumped about 2% since U.S. yields crossed the 1% mark on Wednesday while Indonesia's rupiah dropped almost 1%. The Colombian peso and Malaysia's ringgit were among the other casualties as Treasury 10-year yields climbed to 1.10%, the highest since March.
The surge in the key global benchmark yield is raising the prospect of a pause in the dollar's recent slide, which could undermine the rally in risk assets. Developing economies that are reliant on external financing may find their currencies especially vulnerable to any sustained strength in the greenback.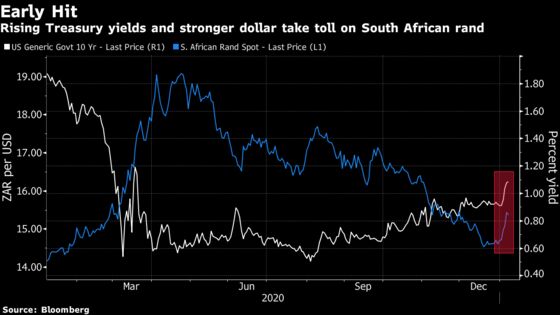 "Higher U.S. yields will likely mean a temporary retracement of Asian currencies," said Kheng Siang Ng, Asia Pacific head of fixed income at State Street Global Advisors, which oversees $3.15 trillion. "The medium term question is: is this the start of a dollar bull cycle? We generally feel that the dollar should continue to weaken, but it doesn't mean that this is a straight line."
The pullback in emerging-market currencies may also reflect a squeeze of short dollar positions. All but three of 24 developing-nation currencies tracked by Bloomberg rallied in the fourth quarter, with the rand and Colombian peso gaining over 10%.
Still, not everyone thinks higher U.S. yields spell trouble.
Citigroup Inc. pointed out in a note that while the rise in yields pose a risk to emerging-market currencies, the market impact has been limited as the Fed will eventually monetize the additional bond supply and help weaken the dollar. Also, the recent jump in U.S. yields was driven more by break-evens than real rates, and so will have less impact on developing currencies.
"For now, the rise in U.S Treasury yields triggered by the Democratic Senate wins shouldn't be sustainably bullish for the dollar," Bloomberg Intelligence strategist Audrey Childe-Freeman wrote in a note. That's because the surge is mainly driven by supply considerations and may entail little change in the near-term growth picture, she said.
Apart from emerging-market currencies, other risk assets also bore the brunt of the surge in Treasury yields on Friday. Indonesia's bonds, a gauge of demand for Asian debt, were sold off, with the 10-year yield surging as much as 14 basis points to 6.18%.
While the dollar is rising this week, there's still consensus on Wall Street that it will weaken in 2021. There's also a discussion over how much higher Treasury yields may climb, with some arguing that it could edge up a bit more, while others see it advancing to 2%.
This comes amid growing debate about the withdrawal of Federal Reserve policy support as U.S. President-elect Joe Biden's administration deploys more stimulus. Chicago Fed President Charles Evans and Atlanta's Raphael Bostic said they might support a tapering if the economy rebounds, while Cleveland's Loretta Mester indicated otherwise.
Risk-sensitive Asian currencies such as the won and rupiah will likely "remain on the back foot" as U.S. yields climb, said Mitul Kotecha, senior emerging markets strategist at TD Securities in Singapore. "Asian currencies have performed well over recent weeks and as such some near-term consolidation, profit taking should be expected."