Rates Traders Cut Back on Wagers Blue Wave Will Trigger Selloff
(Bloomberg) -- A week before the U.S. election, bond traders betting on a Democratic sweep are starting to lose their nerve.
Treasury futures traders pared a record short position in longer maturities on Monday after fiscal-stimulus talks stalled and stocks sank amid renewed concerns over the pandemic and the economic outlook. The risk-off shift sparked the biggest one-day decline in long-bond futures positions since at least August. The drop came to around 13,500 contracts, according to CME Group Inc. data released Tuesday.
The yield on the 20-year Treasury, the underlying maturity for those futures, dropped the most in about two weeks on Monday, and the bond extended its rally Tuesday. Heading into this week, leveraged investors had built the biggest-ever bet on losses in bond futures, on expectations that a Democratic sweep in November would pave the way for large-scale stimulus and higher yields.
By Friday, doubts about that narrative had already emerged in the options market, in part because of the sense that some of the positioning may have become too extreme. There's the obvious concern that Election Day could bring an unexpected reaction in markets, even if polling proves accurate and Democrat Joe Biden wins the White House, and his party also takes the Senate. And with coronavirus infections rising, the path of the economy in the months ahead looks increasingly uncertain.
"There's a lot of money sloshing around in both directions," said Michael Shaoul, chief executive officer at Marketfield Asset Management LLC. "Even a Biden win may lead to a further unwinding of bets, but there's not likely potential for a massive squeeze. Any real move in yields might not come until 2021," when the outlook for stimulus and inflation become clearer.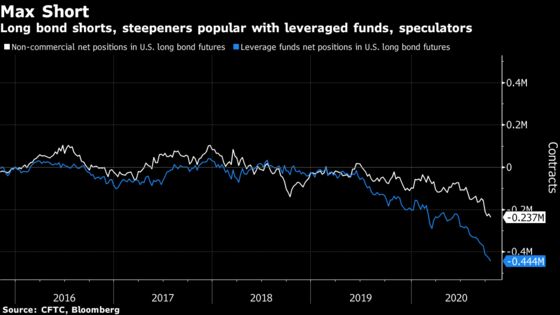 In the options market, doubts about the Democratic-sweep narrative had already emerged over the past week. Bets were popping up that yields on Treasury 10-year notes wouldn't rise beyond 1%, including a $31 million position banking on limited volatility. On Monday, another wager in the same direction was placed, according to open-interest data.
See here to read more on the $31 million options position.
The unprecedented futures short position built up over recent weeks in the long end of the Treasury curve, fueled by polling suggesting a clear-cut Biden victory with Democrats potentially taking the Senate as well.
JPMorgan Chase & Co.'s Treasury client survey released Tuesday confirmed short positions grew last week, at the expense of longs.
But this week has gone against those wagers, even after stronger-than-expected durable-goods data on Tuesday, a further sign that investors may be looking to reduce short positions ahead of the election.
Ten-year Treasury yields fell 3 basis points Tuesday to around 0.77%, down about 10 basis points from Friday's four-month high.