Treasury Has Wall Street Dreaming Up New Bond Ideas
(Bloomberg) -- The U.S. Treasury is beginning to think outside the box about ways to fund escalating borrowing needs that are on course to exceed $12 trillion over the next decade just as foreign demand for America's debt is stagnating
Treasury Secretary Steven Mnuchin tapped his committee of external advisers on borrowing this month to assemble a list of potential new debt securities the government might use to expand its investor base. The brainstorming comes as the federal budget deficit is forecast to exceed $1 trillion in fiscal 2022 and as the nation's debt burden has surged to $15.6 trillion, up more than $1 trillion from the end of 2017.
The rising borrowing needs, even without factoring in the chance of a recession, "would pose a unique challenge for Treasury over the coming decade," Beth Hammack, chair of the Treasury Borrowing Advisory Committee, wrote in her report to Mnuchin. And "given stagnation in international reserves, there is likely an increased need for this debt to be financed domestically."
The committee -- a 17-member panel representing Wall Street's most influential dealers and debt investors -- listed new debt tools including:
Inflation-protected debt indexed to the health care and education components of the consumer price index
Longer-tenor floating-rate notes beyond the 2-year maturity the Treasury now utilizes
Floating-rate debt linked to the Secured Overnight Financing Rate, or SOFR
15- or 20-year Treasuries
Perpetual horizon debt sales
Zero-coupon bonds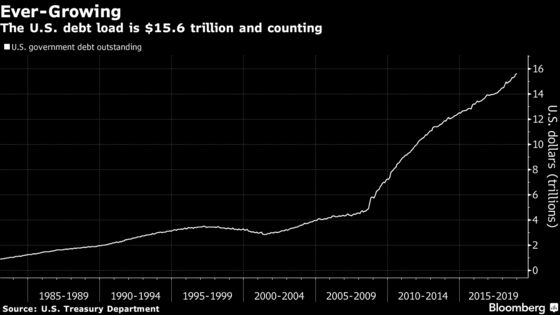 Brian Smith, the Treasury's deputy assistant secretary for federal finance, made clear Wednesday that the effort was "a brainstorming exercise" to solicit ideas.
"Treasury asked TBAC to brainstorm blue-sky ideas for the potential future," Smith said to reporters in a press conference as part of the Treasury's quarterly debt announcement. "The ideas are taken in that way. They are a brainstorming exercise rather than a reflection of a certain future."