Treasuries 10-Year Yields Drop to 2016 Low; May Sink Further
(Bloomberg) -- Treasury 10-year yields, which dropped to a 2016 low, could sink further, while Japan's currency slumps to a four-year low.
Those are two key views from strategists and investors who've concluded that markets are still underpricing the impact of the coronavirus. As infections soared in South Korea, Italy, and Japan, they're trying to estimate just how much damage a global pandemic would do to supply chains and economic growth.
"I see Treasury yields testing about 1.30%, the record lows seen in 2016, and potentially breaking below it," said Prashant Newnaha, a senior strategist at TD Securities in Singapore. "The longer this situation persists, the bigger the issue on supply chains -- it could have a domino effect on growth."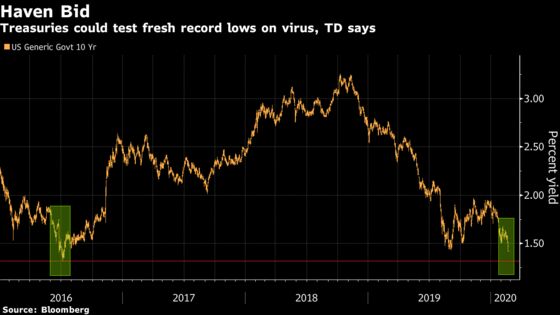 Yields on 10-year Treasuries dropped five basis points to 1.42%, the lowest since July 2016, in London trading Monday as investors doubled down on haven bids in response to a spike in infections outside of China. The 30-year yield extended Friday's decline to a record low.
The recent rally is driven by Asian investors, who have been buying U.S. debt with longer duration, according to Morgan Stanley.
"We think the risks associated with the virus resonate more strongly with Asia investors, who are closer to the situation than investors in the U.S.," according to Guneet Dhingra.
Asia-Pacific currencies from South Korea's won to the Australian dollar extended losses on Monday as funds ditched assets seen as closely tied to China.
Even the yen, which is typically a bastion of safety, hasn't been spared the rout.
The currency has dropped 2.6% to 111.53 against the dollar this year, partly as concerns mount over the impact of the virus on its manufacturers and the economy. Japanese funds have also been dumping the yen as they piled into overseas bonds.
The yen may sink to 120 per dollar -- a level last seen in early 2016 -- if Japan's economic growth slows more than expected versus the U.S., according to S&P Global Ratings.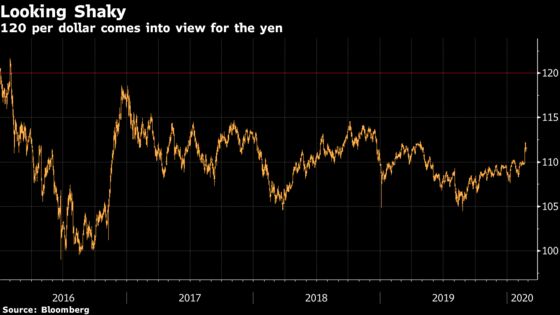 "The exchange rate is taking all of the burden as people adjust their expectations for Japan's slowdown," said Shaun Roache, chief Asia-Pacific economist at S&P. "It's a shock absorber when monetary policy may have little effect to counter the virus with rates already so low."
AMP Capital Investors Ltd. also sees a risk of the yen weakening to multi-year lows.
"It's a bit of a bizarre world we live in when people are selling the yen on a risk of a recession," said Shane Oliver, head of investment strategy at AMP Capital Investors. "But if the outbreak in Japan continues to worsen, and the U.S. remains relatively virus free, the yen could test 120."