Treasury Yields Slide to Two-Year Low Amid Bets on Global Easing
(Bloomberg) -- Treasury 10-year yields dropped to the lowest level in more than two years amid prospects for additional global monetary easing.
U.S. notes rallied as investors sought havens before a raft of data in coming days including June payrolls, and the market's closure for the July 4 holiday. Bonds have gained around the world after Bank of England Governor Mark Carney on Tuesday warned of downside risks to growth and as Christine Lagarde's nomination for European Central Bank president was seen bolstering the chances of further quantitative easing.
"A major driver of Treasury yields lower is a dovish shift of central banks, including the ECB and BOE," said Hidehiro Joke, a bond strategist at Mizuho Securities Co. in Tokyo. "Ten-year yields may risk falling toward 1.70% as markets are very pessimistic" about economic growth, he said.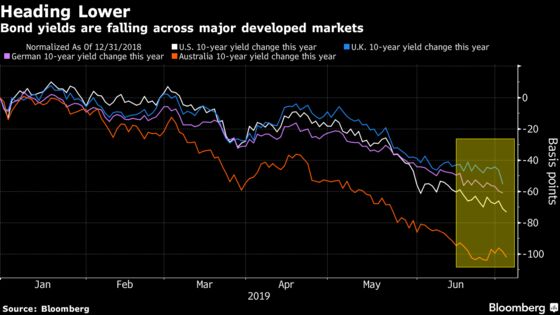 U.S. 10-year yields slid as much as four basis points to 1.94%, the lowest since November 2016, while two-year yields dropped three basis points to 1.73%. In Germany, 10-year yields fell as much as three basis points to nearly touch the ECB's deposit rate of -0.40%, while 20-year bonds joined a record global pile of negative-yielding debt.
U.S. economic data to be released Wednesday include durable goods orders, factory orders, and ADP employment figures. The payrolls data on Friday may either reassure investors concerned about the weak numbers for May or validate suspicions the economy is faltering.
"For what should be a quiet holiday week there is a lot of data for the markets to digest," said Subadra Rajappa, head of U.S. rates strategy at Societe Generale in New York.
This week's data may help determine whether the Federal Reserve will fulfill market expectations for monetary-policy easing at its July 30-31 meeting. Fed funds rate futures are pricing in more than a quarter point of cuts, while some traders have predicted a half-point reduction.
Read more:

Italian Bond Catch-Up Rally Shows Fear of Missing Out on Monetary Frenzy 
Front End of U.K. Gilts Curve Sees Mild Inversion on BOE Expectations
Japanese bonds also joined the global rally even after the Bank of Japan cut purchases of intermediate and ultra-long bonds at its regular operation Wednesday.
The nation's five-year yield fell one basis point to minus 0.25% after dropping to minus 0.29% last month, the lowest since July 2016.
The BOJ trimmed buying of three- to five-year and 10- to 25-year maturities by 20 billion yen ($186 million) each. The central bank boosted purchases of one- to three-year bonds by 30 billion yen.