Treasuries Gain Most Since May With Stocks Slumping, Italy Concern
(Bloomberg) -- Investors are turning to U.S. Treasuries as equities tumble around the world and Europe's political troubles simmer, driving the sharpest decline in America's benchmark yield since May.
A surge in market activity shows U.S. government bonds functioning as a hedge against losses in stocks. Traded volumes in the 10-year Treasury future on Tuesday spiked to more than 150 percent of their 10-day average and the benchmark 10-year rate fell as much as 9 basis points to 3.11 percent. The S&P 500 Index sank, following steep declines in Asian and European shares.
"Tell me where the S&P's going to be and I'll tell you where 10-year Treasuries are going to be," said George Goncalves, head of Americas fixed-income strategy at Nomura Securities. "Short-term correlations have come back."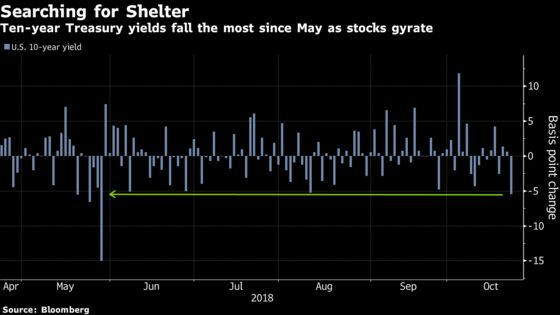 Concern about Italy's fiscal situation is fueling appetite for Treasuries too, with the European Union on Tuesday asking the government in Rome to resubmit its budget. The souring of U.S.-Saudi relations and America's ongoing trade dispute with China also provide reasons for investors to take cover. The mood in corporate America may also be darkening, judging by the latest round of company results from firms including economic bellwether Caterpillar Inc. and 3M Co.
"There's plenty of stuff to keep people up at night in terms of what's going on in Europe, and the global stock markets have not done very well," said Brian Edmonds, head of interest-rate trading at Cantor Fitzgerald in New York. "That's an environment where you catch a bit of a bid in Treasuries."
The rally in Treasuries took the 10-year yield down to its lowest level since Oct. 3, although the yield has since pared its move. It appears to have gained a foothold near 3.13 percent, which was around the high for the year before last month's bond sell-off. The yield was 3.14 percent as of 1:12 p.m. in New York, down around 6 basis points on the day.
The global market pressures that are fueling demand for Treasuries are reflected in a synchronized tightening in financial conditions this month, which may give the Federal Reserve pause as it contemplates whether to press ahead with its ninth rate hike since 2015. While short-term funding markets are still pricing in a December increase, traders have pared their bets for Fed tightening next year. Overnight index swaps now show just 50 basis points of tightening in the first half of 2019, down from 55 on Monday.
The moves came as the Treasury brought more debt to the market Tuesday, auctioning two-year notes, along with four-week and eight-week bills.