No Respite for U.S. Rates Turmoil as Fed, Treasury Plans Collide
(Bloomberg) -- The world's biggest bond market started the week with more turbulence after a barrage of Federal Reserve measures to support the economy ran into the Treasury secretary's promise of a flood of long-dated debt.
Treasuries embarked on yet another dizzying round trip Monday, building on last week's unprecedented swings. Yields plunged as much as 16 basis points to 0.68% on the latest raft of emergency interventions from the Fed -- which include support for corporate and municipal-bond markets and unlimited buying of Treasuries. The benchmark then vaulted higher on Treasury Secretary Steven Mnuchin's pledge to issue a lot of long-term financing. The 10-year yield was last around 0.72%.
Though demand for safe assets remains intense, capacity for a huge burst of supply is in question as primary dealers' balance sheets are laden with government debt, including a record $62 billion maturing in more than 10 years. Some say they're already hampered in their capacity to function as middle-men across stressed markets. In the meantime, however, the prospect of massive long-term borrowing, especially as Congress debates a fiscal package exceeding $1 trillion, is likely to support a steeper curve, said DWS Investment Management's Gary Pollack.
The stimulus "package that Congress is looking at will ultimately add a lot of Treasury debt to the market, so it will probably keep the curve pretty steep overall," said Pollack, head of fixed income at DWS.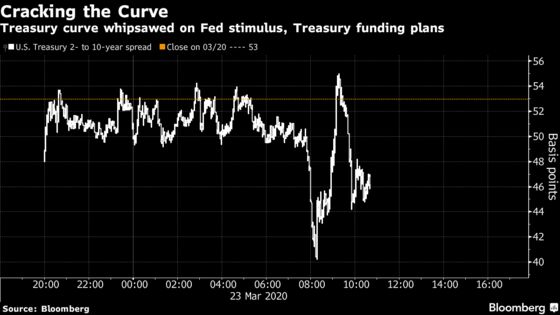 The risk to the Treasury is that a surge of ultra-long supply overwhelms a part of the market that's struggled with illiquidity in the past couple of weeks. Subadra Rajappa, head of U.S. rates strategy at Societe Generale, was skeptical that demand could hold up among the pension funds and insurers that are the typical customer base for this debt.
"I am just not sure there is enough appetite" from asset-liability matching buyers, she said. She's backing a further steepening of the five- to 30-year curve, from the current 100 basis points, which is just shy of the nearly three-year high it hit last week.
Meanwhile, the Fed's doing all it can to support markets, with programs aimed at the corporate sector and municipalities, as well as backstops for the banking sector. That helped to slightly ease pressures in funding markets Monday, judging by the modest pullback in rates on overnight bank lending relative to the risk-free rate. To be sure, the cost remains close to a post-crisis high.
The task ahead remains daunting, as financial conditions -- a measure of strains across risk markets that is closely watched by the Fed -- are the tightest in over a decade.
"This is the kitchen sink and more," Priya Misra, global rates strategist at TD Securities, said of the Fed's latest moves. "The credit measures help a lot. The Fed has done literally all they could," and already more than it delivered in 2008-2009.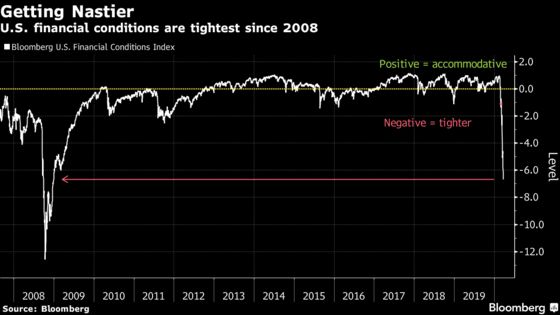 Investors are still waiting on action from lawmakers on promised stimulus to support households and businesses devastated by what's quickly becoming a nationwide shutdown. Forecasts for the coming quarters are alarming -- Goldman Sachs Group Inc. sees a "sudden stop for the U.S. economy" that will cause an unprecedented 24% contraction in annualized growth next quarter.
"For the economy, we still need fiscal measures and Congress needs to get its act together," Misra said.