The World's Oil Demand Is Shrinking By the Most in History
(Bloomberg) -- Global oil demand is contracting by the most in history and could soon fall by as much as 10 million barrels a day, according to Saad Rahim, chief economist at oil trading giant Trafigura Group.
The world's oil consumption is rapidly shrinking as Western countries intensify their fight against the worsening coronavirus outbreak, Rahim said in an interview. Trafigura is one of the world's top three independent oil trading houses, along with Vitol Group and Glencore.
"We believe oil demand could soon be contracting by close to 10 million barrels a day, with perhaps more to come," Rahim said. "We haven't seen a demand event like this in history." The forecast of a 10 million-barrel drop referred to his expected snapshot of demand, rather than a quarterly or annual average.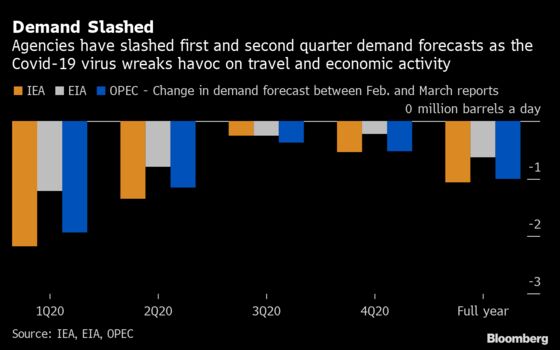 Rahim said he expects every day will be worse for oil demand "for some time." Trafigura's demand outlook paints a darker picture than other forecasters have done.
While the Organization of Petroleum Exporting Companies revised its own forecast this week, it predicted flat demand in 2020, down from a previous expectation that consumption would grow by 1 million barrels a day. The U.S. Energy Information Administration also cut its demand growth estimates but still sees consumption rising by 370,000 barrels a day.
The Paris-based International Energy Agency slashed its forecast for the year, calling for the first contraction in consumption since the global financial crisis in 2008-09. Since 1984, oil demand has grown every year barring three occasions: 2008 and 2009, during the global financial crisis, and in 1993 as the U.S. recovered from recession.
"People are not moving. They are not driving. They aren't flying," he said. And that's not counting the "economic impact of the crisis," which will also drive down demand, he said.