Trading Is All About the Price Tag for Europe's ETF Investors
(Bloomberg) -- European investors are the most price conscious in the world when it comes to trading exchange-traded funds.
While institutions from around the globe see competitive pricing as the chief concern when selecting a counterparty to help them buy or sell an ETF, Europeans are more influenced by this consideration than their peers in either Asia-Pacific or the U.S. and rest of the Americas, according to a new survey from Jane Street, Europe's second-biggest trader of ETFs.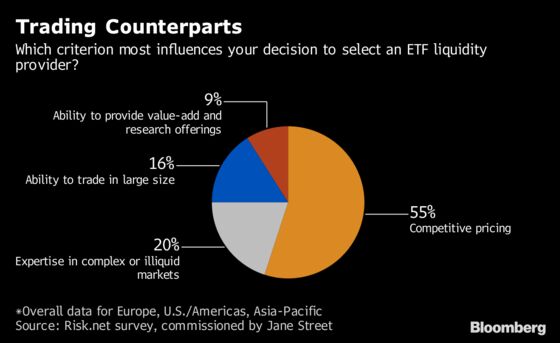 The reason? MiFID II. Under the Europe-wide regulation that took effect in January, money managers have to prove they're getting the best prices for their clients, making them far more cost sensitive when they move in and out of securities. Banks and brokers meanwhile have to break out the cost of their various services, encouraging more focus on expenses tied directly to trading instead of a broader number that includes research, for example.
"It's about best execution," said Andrew Upward, a market-structure strategist at Jane Street in New York. "But the elephant in the room is the unbundling of payment for research from payment for execution."
That's translating into a boon for independent market makers like Jane Street that have historically focused on trading, rather than research.
Market makers help keep ETF prices in line with the value of their underlying securities. If a fund is selling for more than its value, these traders buy the underlying securities, switch them for new shares in the fund, and then sell these fund shares for a profit. In doing so, they bring the fund's price back into line with the value of its holdings.
Half of European asset managers now prefer using independent market makers to handle transactions for them in the ETF market, up from 36 percent in 2017, the survey found. Only one of those surveyed pointed to extra offerings -- such as research -- as the biggest influence on who they trade with, versus 14 percent who put a premium on such services in Asia-Pacific and 11 percent in the U.S. and Americas.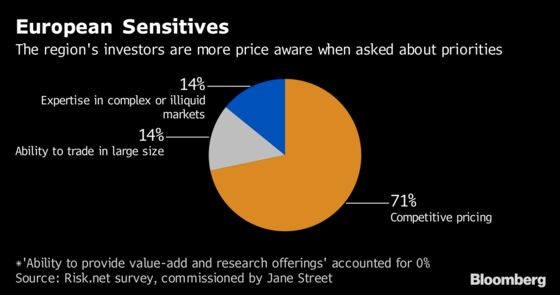 Cost consciousness has also translated into greater institutional use of electronic venues to buy and sell, the survey found. These platforms, which are particularly popular in Europe, allow investors to evaluate and record the pricing offered by several different market makers, helping them prove they're getting the most efficient price. So-called RFQ platforms -- short for "Request For Quote" -- accounted for 38 percent of large transactions known as block trades, up from 32 percent last year.
The survey of almost 300 asset managers, hedge funds, investment advisers, insurers and pension funds that trade ETFs took place between March and May. Bloomberg LP, the parent of Bloomberg News, competes with companies including Tradeweb to offer RFQ services.