Trading Houses Help Boost Japan Stocks as Buffett Reveals Stakes
(Bloomberg) -- Japanese stocks rose, boosted by trading houses after the revelation of stakes held by Warren Buffett's Berkshire Hathaway Inc.
The Topix index completely erased the loss it suffered Friday after the surprise announcement that Prime Minister Shinzo Abe will step down for health reasons. Trading firms were the biggest boost to the benchmark gauge Monday after Berkshire said it now holds more than 5% each in five of the largest players in Japan. The Topix Wholesale Trade Index rose 4.5%, the most since March 27, with Mitsubishi Corp. and Mitsui & Co. each gaining more than 7%. The Nikkei 225 climbed back above its recent resistance line of 23,000.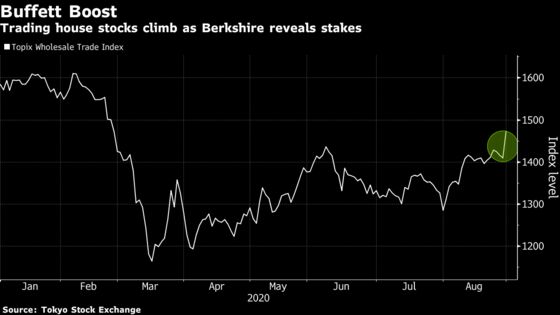 Telecommunications giants were among the few notable decliners Monday, as Chief Cabinet Secretary Yoshihide Suga emerged as one of the leading candidates to succeed Abe. Suga is known for his attack on Japan's high mobile phone bills. SoftBank Corp. shares also fell after parent SoftBank Group Corp. announced plans to sell about a third of its holding.
Suga would be seen as a continuity candidate as Japan tries to rebuild an economy that saw its worst economic contraction on record in the April-June period due to the coronavirus pandemic. Other possibilities include, former Defense Minister Shigeru Ishiba, Defense Minister Taro Kono and former Foreign Minister Fumio Kishida.
"It has to be Suga -- otherwise other candidates may tweak policies in the longer term, which could be negative to the markets," said Ryuta Otsuka, a strategist at Toyo Securities Co. "Kishida might consider fiscal contraction once the pandemic is over and the economic outlook gets better."
Topix +0.8% at 1,618.18 at the close in Tokyo
Nikkei 225 +1.1% at 23,139.76
Yen -0.3% to 105.63 per dollar after gaining 1.1% Friday
Trading companies: Mitsubishi +7.7%, Mitsui & Co. +7.4%, Itochu +4.2%

Telecoms

: NTT -5.1%, KDDI -4.7%, Docomo -3.4%, SoftBank Corp. -2.7%
SoftBank Group +3.1%