Traders With $515 Billion Boycott Stocks for Cash Despite Rally
(Bloomberg) -- Investors with $515 billion surveyed by Bank of America Merrill Lynch aren't convinced by the new-year equity rally and prefer cash to stocks.
Global equity allocations in February fell to the lowest level since September 2016, according to BofA, even as the MSCI All Country World Index is up almost 8 percent in 2019. That indicates a deep lack of conviction in the sustainability of the rebound among traders. The share of investors who believe the S&P 500 Index has peaked at 2,931 jumped to 34 percent this month from just 11 percent in September.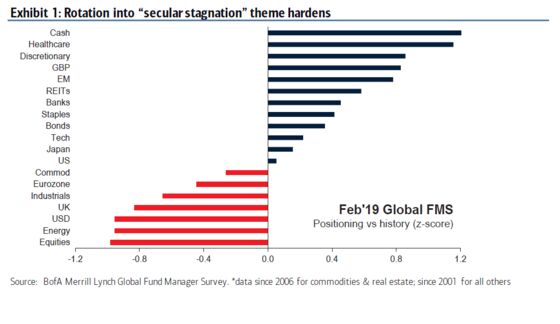 Money managers moved into cash instead, taking the net allocation to 44 percent, the highest overweight since the 2009 financial crisis, according to BofA. Still, the strategists believe that investor hesitancy is going to be favorable for markets this quarter and BofA's cash balance indicator is currently flashing a contrarian buy signal, the note said.
The "February fund manager survey shows a big rotation from equities into cash," BofA strategists led by Michael Hartnett said in a note. It "does not show an improvement in investor sentiment; we say bearish investor positioning remains first-quarter positive for asset prices."
Allocation to U.S. stocks fell to the lowest in 9 months to a 3 percent underweight, with the region being the second-least favored among the money managers, the note says. In contrast, euro-zone equities saw a jump in allocation to a 5 percent overweight, ending an 18-month streak of investment cuts. Exposure to emerging-market stocks kept rising to a 37 percent overweight.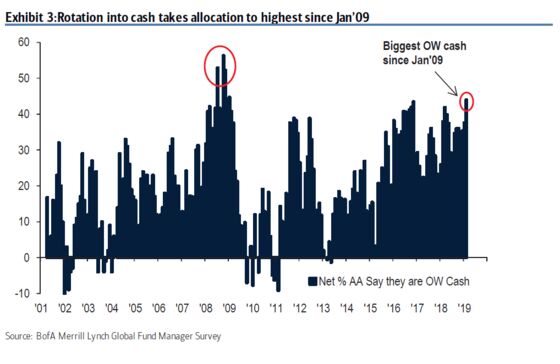 The survey period spanned the week through Feb. 7 and included 173 participants with $515 billion of assets under management.
Other things mentioned in the survey include:
Global economy expectations rose in February, but modestly, from extremely low levels, with two-thirds of investors still expecting slower growth in the next 12 months
Poll shows a new high in the number of investors demanding companies reduce leverage, while investors favoring dividends and buybacks is at an all-time low
The most crowded trades are being long emerging markets, long U.S. dollar and long FAANG + BAT stocks