Traders Sift Through Virtual Cancer Meeting's Winners and Losers
(Bloomberg) -- Biotechnology stocks saw broad swings Friday morning as investors worked their way through a deluge of data from cancer drug developers presenting at the American Society of Clinical Oncology's virtual annual meeting.
Wall Street was quick to crown small-caps Adaptimmune Therapeutics Plc and Trillium Therapeutics Inc. as well as heavyweight AstraZeneca Plc among the early winners with shares rallying on the back of their respective updates. On the flip side, uninspiring results from Arvinas Inc.'s prostate cancer study and Aveo Pharmaceuticals Inc.'s kidney cancer trial drove investors to punish shares.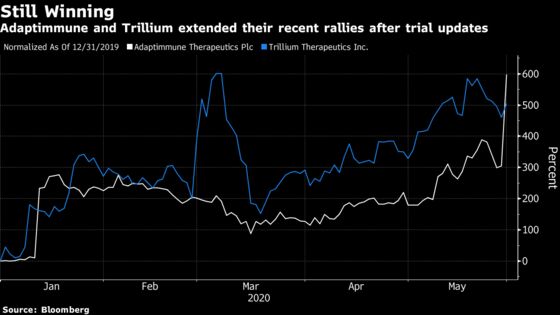 Here's a breakdown of some of ASCO's biggest winners and losers:
The small developer of cell therapies more than doubled in Friday's session after announcing updated early-stage results from a handful of trials in a range of cancer types. The company said its treatments drove responses in esophagogastric junction, lung, and head and neck cancer patients. Adaptimmune plans to start a mid-stage study of its therapy in esophagogastric junction cancer patients in the first half of next year.
The hedge fund darling jumped as much as 21% after updated results for its early-stage study of TTI-622 showed a second patient responded to treatment with their cancer shrinking, providing further evidence that the drug could help patients with lymphoma that has progressed after trying previous therapies.
Ladenburg Thalmann analyst Wangzhi Li wrote that the update showcased "excellent safety and surprising monotherapy activity" in the second patient. The 81-year-old patient's response was classified as a partial response, but looked like it was almost a complete recovery with nearly 100% of the tumor reduced after eight weeks of follow-up.
Shares of the pharmaceutical giant rallied as much as 3.4% in London after updates from a trio of key cancer drugs. The U.K. drugmaker said its blockbuster drug Tagrisso cut the risk of lung cancer death while studies of Imfinzi and Enhertu showed meaningful benefits for patients with small-cell lung cancer and gastric cancer.
Autolus was among the Nasdaq Biotechnology Index's top performers Friday after announcing new data on its CAR-T cell therapy in patients with diffuse large B cell lymphoma. The updated results showed the medicine was well tolerated with no patients experiencing dose-limiting toxicity, and there were no treatment-related deaths.
Aveo tumbled as much as 23%, the worst drop since early November, after late-stage results for its kidney cancer study showed its medicine didn't extend lives longer than Bayer's Nexavar. Aveo erased some of its loss after Baird raised its price target to a Street-high $24 from $15, saying the analysis removed an overhang on shares.
The New Haven, Connecticut-based biopharma company sank 18% to make it the Nasdaq Biotech Index's worst performer after updated results from its early-stage trial of ARV-110 in prostate cancer failed to excite investors. Just two of the 20 patients in the trial saw their PSA levels decline by 50% or more, missing many analyst expectations.
MacroGenics fell as much as 16% after releasing additional data for a trio of cancer drugs. Wall Street has been closely watching early data on MGD013 and MGC018 after bullish commentary from its management team earlier this month caused shares to triple.
Shares of Allogene were little changed, erasing an initial drop, after updated results for its off-the-shelf CAR-T therapy showed a decline in patient benefit compared to an initial peek earlier this month. Twelve of 19 patients with blood cancer have responded to Allogene's ALLO-501 in the "Alpha" study, including seven that had a complete response, the company said.
Analysts had already started to debate whether the early-stage drug data that spurred Allogene to recored highs and a more than $6 billion valuation was warranted.