Traders See Little Hope in World's Worst Stock Market This Month
(Bloomberg) -- For South Korean stock investors, Tuesday's rebound did little to revive optimism.
Sentiment among fund managers remains decisively negative as the benchmark Kospi Index heads for the world's biggest monthly slide after entering bear territory last week. The nation's equity market has lost more than $300 billion in value in about a month, with the benchmark dipping below the key psychological level of 2,000 points on Monday.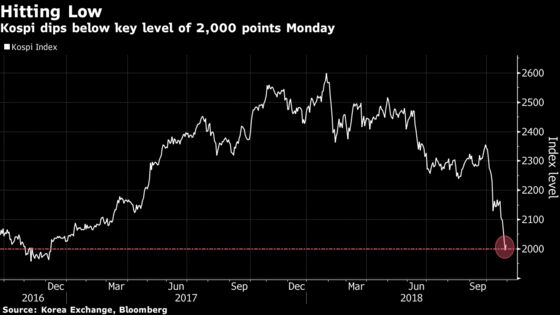 A slowing economy -- third-quarter gross domestic data was the weakest since 2009 -- and a slew of disappointing earnings -- 70 percent of Kospi companies have missed analyst projections this season so far -- have fueled pessimism over recent months. The deepening trade war between the U.S. and China, and a slump in emerging-market currencies is adding to the worries for the export-driven economy.
"Every investor is worried about the languishing long-term growth of the Korean economy," said Huh Nam Kwon, the chief executive officer at Shinyoung Asset Management in Seoul. "Earnings are expected to reach a peak this year."
Despite efforts by the newly elected Moon Jae-in government to turn Asia's fourth-largest economy into one that will be "income led," the unemployment rate is near its highest level since early 2010 amid record household debt.
Add to that weaker demand for South Korean products from emerging markets because of plunging currencies, and the result on earnings forecasts is dire: Analysts have kept cutting their estimates for Kospi companies, with their average 12-month forecast now at a one-year low.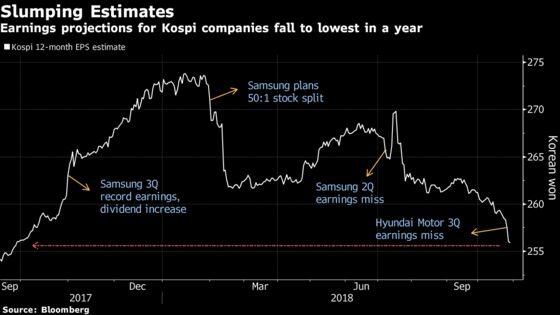 Profit at Samsung Electronics Co., which accounts for about a fifth of the Kospi, will probably peak this year, Huh says. Its shares have tumbled 17 percent in 2018 as DRAM chip prices have sunk, exacerbating concerns over the end of the so-called "supercycle" in the global memory-chip industry that buoyed shares over the past two years.
Yet looking back, Huh also notes that buying stocks during rough times has yielded good returns. "When I invested during a pervasive fear, I never lost," Huh said.
Lee Sung-min, the head of equities at Eugene Asset Management in Seoul, says the recent rout is excessive considering the fundamentals of the Korean economy remain solid, with its credit-default swaps still near record lows.
"Saying the Korean economy is closing to a recession seems to be too much," Lee said. "It would be good to add oversold large caps when the Kospi dips below 2,000 points."
But for now, the fact is that traders are fleeing the market. The Kospi's 14 percent plunge in October puts it on track for its worst month since the height of the global financial crisis a decade ago, and the proportion of oversold stocks from the index has hit its highest level since then. Local institutional investors have offloaded 4 trillion won ($3.5 billion) net of Kospi shares this year, while foreigners sold a net 6 trillion won.
"The biggest reason for the earnings misses for the third quarter is probably the weakening currencies in emerging markets, affecting profits of exporters such as Hyundai Motor," You Seung-Min, chief strategist at Samsung Securities, said by phone. "The impact from the trade war would appear in China first, and then spill over into South Korea."