Traders See Early Morning Sell-Off as Warranted But No Reason to Panic
(Bloomberg) -- Major stock indexes have rallied off their intraday lows and, while a large part of year-to-date gains have evaporated in October, traders across Wall Street say they still aren't seeing panic among investors.
A quick survey by Bloomberg News of 10 sell-side and buy-side traders and portfolio managers saw little sense of panic in the first few hours of trading, but some steps to limit risk, particularly across China internet stocks. One money manager said the feeling among peers was "more anguish than panic."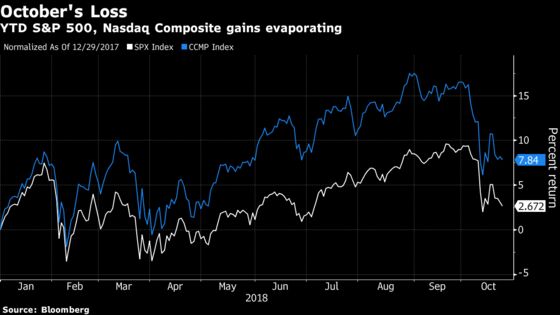 Most attributed today's weakness to third quarter earnings from industrial bellwethers Caterpillar and 3M, and concerns over Italy's budget, Saudi Arabia and Brexit continuing to weigh on sentiment in the midst of third quarter earnings reports.
Alon Rosin, Oppenheimer's head of institutional equity derivatives, said his team is looking to selectively monetize/roll down ETF hedges as implied volatility is relatively lower than two weeks ago, when the S&P 500 dropped more than 5 percent in two days. Rosin continued, "We would look to hold onto cheaper long volatility tails in case of further collapse. More importantly, we see a lot of opportunity to use options in single names to outperform equivalent long and short stock positions."