Spiking Volatility in China Shows Global Markets Are Nervous
(Bloomberg) -- China's currency markets are on edge like never before, a sign of the anxiety afflicting investors globally as they gird for election day in the U.S. and its potentially contentious aftermath.
The offshore yuan's one-week implied volatility -- a proxy for market risk -- more than doubled in the past week to the highest since Bloomberg began compiling the data in 2011. The overnight tenor is also elevated, surging on Tuesday to a more than two-year high.
Uneasiness is further evident in gauges of expected swings across credit, equity and sovereign debt markets. Investors are waiting to see if the contest between Democratic nominee Joe Biden and President Donald Trump delivers a clear outcome, or descends into a drawn-out scrap over the results. The pandemic continues to rage all the while, adding a further layer of risk.
Credit markets are reflecting nervousness last seen in the early days of the virus outbreak. That's apparent in expectations for the sharpest price movements in credit derivatives since March, as reflected in one-month implied volatility for options on credit-default swaps, according to JPMorgan Chase & Co.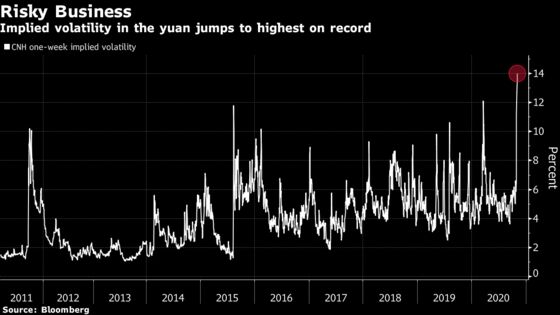 The so-called fear gauge for the S&P 500 index -- the Cboe Volatility Index or VIX -- remains elevated after jumping higher last week. The Treasury market's equivalent, the ICE BofA MOVE Index, reached its highest level since April.
Election uncertainty, resurgent Covid-19 cases and concern about equity valuations are some of the reasons why "volatility markets aren't complacently priced," said Stacey Gilbert, portfolio manager at Glenmede Investment Management LP. VIX pricing suggests swings may ripple across stocks beyond election day, she added.
The offshore yuan may be particularly sensitive to the election outcome given that some analysts view a Biden administration as potentially more moderate toward China in the trade war. Separately, Chinese lenders last week stopped including a volatility-smoothening factor when submitting their daily yuan reference rates, a contributing factor to the recent developments.
Currency traders elsewhere are also hedging for bigger moves. For instance, a broader JPMorgan Chase & Co. index tracking implied volatility for emerging-market currencies closed at a one-month high on Monday. Overnight volatility for a number of currencies jumped, including the Mexican peso, which topped the highest since April.
Some initial results from the election are expected to arrive Wednesday during the Asia day. Signs of a clear-cut result could cause investors to breathe a collective sign of relief.
If that leads to near-term optimism for stocks, protective hedges could be unwound reasonably quickly, "which will mechanically sling-shot the market higher," Nomura Holdings Inc. strategist Charlie McElligott wrote in a note.