Traders Look to Proxies During U.S. Market Closing for Bush
(Bloomberg) -- With U.S. markets closed Wednesday to honor former president George H.W. Bush, investors will be looking for trading alternatives to avoid falling behind a very busy week for global events.
On Tuesday, a litany of concerns wiped out the rally in risk assets as most investors settled for getting out ahead of any new developments during the Wednesday pause. The Dow Jones Industrial Average tumbled almost 800 points and the S&P 500 Index plunged over 3 percent, the biggest slide since the mid-October selloff.
"I do have sympathy with the view that lots of U.S. selling was front loaded Tuesday ahead of the U.S. holiday," said Nader Naeimi, head of dynamic markets at AMP Capital Investors Ltd. "There's a good chance we see the opposite move and a snap back on Thursday if we continue to see encouraging trade anecdotes."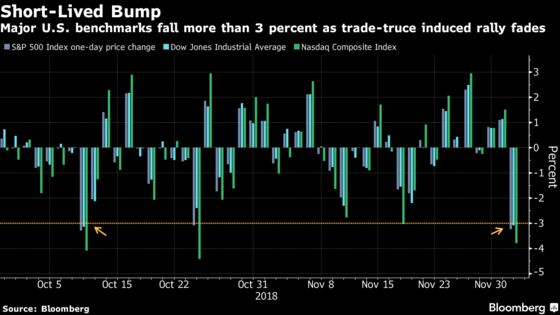 S&P 500 futures, which have a shortened session today, rose after the rout on Tuesday. Gains followed China's announcement that it will swiftly follow through on trade pledges made at the weekend meeting of Presidents Donald Trump and Xi Jinping. The contracts were up 0.5 percent as of 10:42 a.m. London time.
Given the market attention on inversions of parts of the U.S. yield curve, gains when Wall Street reopens Thursday may be limited.
"There is a tug of war right now -- easing of trade tensions versus the collective market perception that the inverted yield curve in the U.S. is pointing to an imminent recession," Naeimi said. "Gold is a good hedge in this environment. If the yield curve is right and the Fed has already gone too far, which I doubt, gold will rally together with a falling dollar."
Stephen Innes, head of trading for Asia Pacific with Oanda Corp. in Singapore, said traders may consider highly liquid venues such as Hong Kong's Hang Seng Index or Germany's DAX Index as alternatives while the U.S. market is closed.
"Looking at those two you should be able to anticipate how the markets are going to open," Innes said.
Investors may use the break to take stock of a busy week, with headlines expected from an OPEC gathering and Brexit, he said.
"Maybe today is a pause and we see how the dust settles and maybe look at all the stuff that comes up on Thursday," he said. "There's going to be a lot of stuff flying around. You can get back into this pretty easily."